Post by grrraaahhh on Jul 22, 2013 1:33:39 GMT -9
Administrator Note:
Sorry for the re-post. The original data was lost when the image host site used was purchased affecting not only this thread/post but other forum super-sized posts. When another reliable (super-size) image host site is located attempts to fix the remaining defunct image posts will also be made.
URSIDAE—BEARS
Bears have tremendous strength. Mature bears are capable of bending bars and tearing off screens with their heavily clawed forepaws. Although bear claws are not sharpened and recurved like those of the large cats, the power of their paws and limbs makes bears dangerous to handle. Large bears such as grizzly or polar bears are capable of killing with a single swat of the paw (Fig. 19.4).
Immature bears may be hand held or controlled by nets or snares (Fig. 19.5). Mature bears should be handled only by the use of special squeeze cages or by chemical restraint (Figs. 19.6, 19.7). Squeeze cages used for bears must be especially strong; cages designed for large cats are usually not adequate. The use of chemical immobilization has minimized the need for such devices.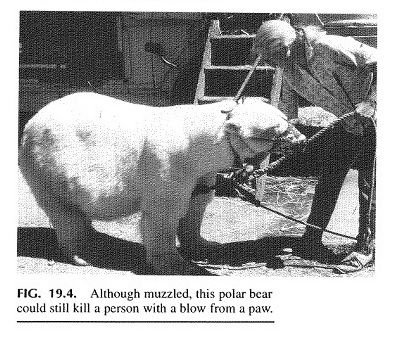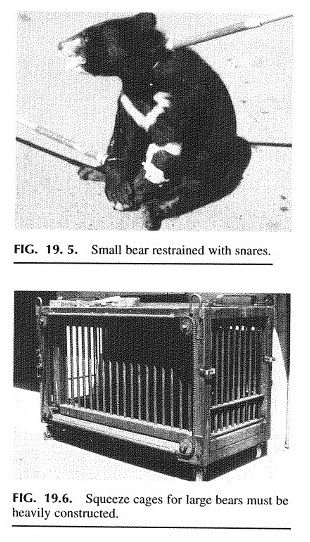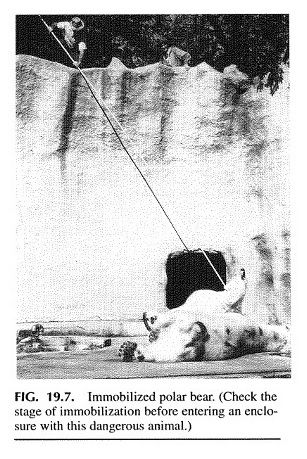 A large bear is usually transported in a heavy crate. The crate must be especially constructed of strong materials to prevent the bear from tearing it apart and escaping. Many bear crates are lined with galvanized sheeting, welded at the seams to prevent the animal from ripping it off by prying a claw beneath a seam.
To load a bear, the crate must be firmly secured to the cage opening with chains or ropes (Fig. 19.8). Otherwise the bear may run full tilt into the crate and, by the force of its body crashing against the opposite end, push the cage away from the opening and escape. A high-pressure water system is useful for directing a bear into a crate. It may be necessary to chemically immobilize a large bear before it can be placed into the crate.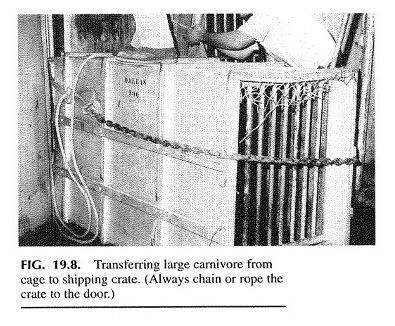 Orphan cubs must be bottle fed from the proper position (Fig. 19.9). If the animal is placed on its back, the milk may be inhaled into the lungs, causing aspiration pneumonia.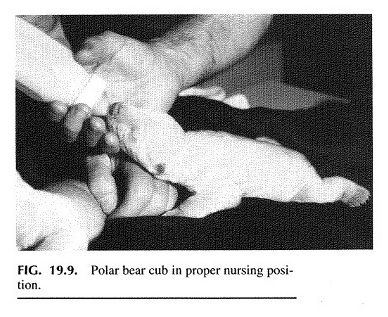 Chemical Restraint and Anesthesia
Many chemical agents have been used successfully to immobilize bears (see Table 19.3). Anesthesia is handled in the same manner as for dogs (Figs. 19.10, 19.11). For more details see Chemical Restraint section at the end of the chapter.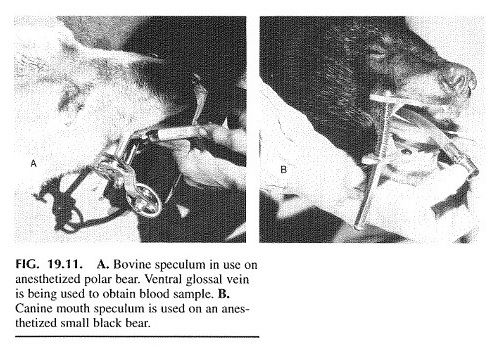 Source:
Fowler, M.E.
Restraint and Handling of Wild and Domestic Animals
. 2nd Edn. 1995. Iowa State University Press. Ames. Iowa.