Post by warsaw on Jan 20, 2014 10:38:11 GMT -9
LOOK: Grizzly Bear Undergoes MRI At WSU College Of Veterinary Medicine Teaching Hospital
www.abcfoxmontana.com/story/24484421/look-grizzly-bear-undergoes-mri-at-wsu-college-of-veterinary-medicine-teaching-hospital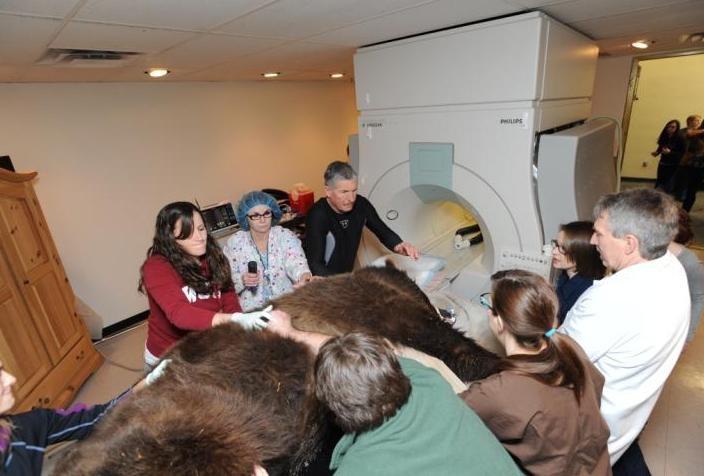 www.khq.com/story/24484421/look-grizzly-bear-undergoes-mri-at-wsu-college-of-veterinary-medicine-teaching-hospital?clienttype=generic&mobilecgbypass
by Nichole Mischke, KHQ Local News Web Specialist - email
Lucy, a 3-year-old Grizzly, undergoes MRI at WSU
Lucy, a 3-year-old Grizzly, undergoes MRI at WSU
Mobile users can view the slideshow here:
tinyurl.com/m4xx8uc
PULLMAN, Wash. - Thursday, WSU veterinary medicine students got to watch "Lucy," a 3-year-old grizzly bear get an MRI. Lucy lives at "Grizzly Encounter," a grizzly bear rescue and education sanctuary in Bozeman, Montana. Lucy endured two grand mal seizures on January 9, 2014 and since then has become more lethargic in her movements but also more aggressive toward her keepers.
She was admitted to the Washington State University College of Veterinary Medicine Teaching Hospital in the Neurology Service. That service is headed by Dr. Annie Chen-Allen and Lucy was under the care of Dr. Stephanie Thomovsky.
Magnetic resonance imaging (MRI) of the brain was performed under anesthesia. It revealed multiple lesions in the brain of unknown origin. No biopsy was done. The owners have elected to treat Lucy for the most common forms of brain infections with antibiotics. Also, she will be dewormed as there are parasitic worms which can infect the brains of bears that occur naturally in their wild habitat.
Friday morning Lucy was feeling lethargic, not eating or drinking well and was in otherwise stable but guarded condition before being transported back to Montana. A Montana veterinarian will take over the care prescribed by Thomovsky.
While Lucy was not a WSU bear, WSU has the only grizzly bear colony for research purposes in the world. You can learn more here:
soe.wsu.edu/facilities/bears/
.