Post by grrraaahhh on Jul 10, 2010 1:54:33 GMT -9
HARVESTING KODIAK BEARS:
HARVEST
We investigated the cause of deaths of all the radio collared bears used for the survival rate analysis (Table 2.1). The major cause of death for males was hunter harvest (91%), while most females died of natural (non-anthropogenic) causes (54%). There were no significant differences between the causes of death reported for females from the various study areas (ANOVA, F= 1.43, P = 0.286), however, there was a significant difference between males and females (x3,11 2 = 148.42, df = 3, P<0.001). During the study period (1982-2004), overall annual harvest density for the study areas was 17.07 independent bears/1,000 km2, ranging from 13.34 in TLH to 22.58 in ALK (Table 2.2). The harvest rates of independent bears ranged from 6.68% in TLH to 10.33% on the ALK, and males dominated the harvest in all areas (68.4%), ranging from 63.7% in TLH to 72.2% in ALK. The number of bears harvested remained relatively consistent during the study period, but was higher than during the previous 20 years (Table 2.3). We also saw an increase in the number and percentage of the harvest that consisted of trophy-sized males (Figure 2.2).
We analyzed data from 3,267 male bears that were harvested on the Kodiak Archipelago, had unbroken skulls at the time of sealing, and had a premolar tooth that was suitable for aging. Data from these samples revealed that the percentage of skulls reaching trophy size (n = 283) increased with the age of the bear, with 56.1% of the males in the oldest age class (>20 years) being trophy-sized (>71 cm). Bears in the >68 cm category (n = 710) also increased with age, including 91.2% of the males in the oldest age class (Figure 2.3). The relationship between male skull size and age was also evident when we compared the average annual skull sizes and ages for bears harvested from 1982-2004. The correlation between these data was significant (P < 0.001) with r*2* = 0.77 (n = 22).
(*2* = raised).
Skull size-age data collected as a result of the regulation changes clearly demonstrated that age structure of the male bear population has a direct impact on the number of large bears available to hunters. On Kodiak, over 90% of male bears have the potential to reach skull sizes exceeding 68 cm, and over half of the bears can attain trophy size if they live long enough. Therefore, when managing for a population that retains a segment of large males, it is important to establish regulations that consider survival rates of adult males as well as productive females. During this study, hunting regulations for Kodiak bears were crafted to distribute harvest throughout the archipelago and reduce hunter efficiency. While season dates included times when hide quality was at its peak, they are also set to afford protection to females that have longer denning periods. Prohibiting harvest of maternal females and their dependent cubs further protected productive females.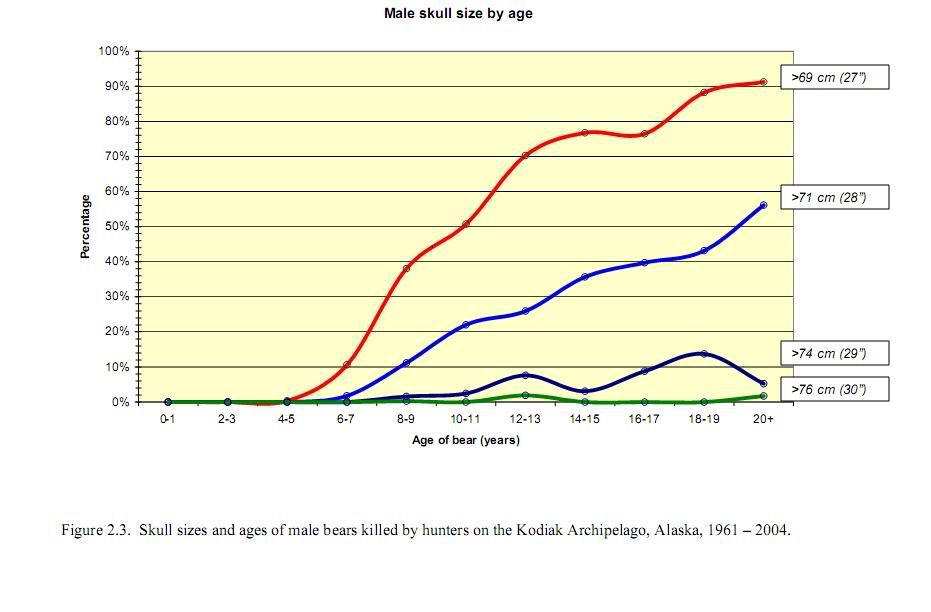 POPULATION DYNAMICS AND MANAGEMENT. OF BROWN BEARS ON KODIAK ISLAND, ALASKA