Post by grrraaahhh on Sept 3, 2011 10:58:37 GMT -9
Preliminary Profile
Order
Carnivora
Family
Ursidae
Genus
Melursus
Species
ursinus
Geographic Range Information
Sloth bears are present in India, Nepal, Sri Lanka, and Bhutan. Until recently they were also known to occur in Bangladesh, but their continued existence there is uncertain: the last documented records are from the late 1990s. In historic times, sloth bears never ranged further west than Gujarat, India, and probably no further east than the states of northeastern India, although some unverified reports suggested that they once occurred in the southwestern corner of present day Myanmar (Erdbrink 1953). Although still widely present in its former range, its distribution is now highly fragmented.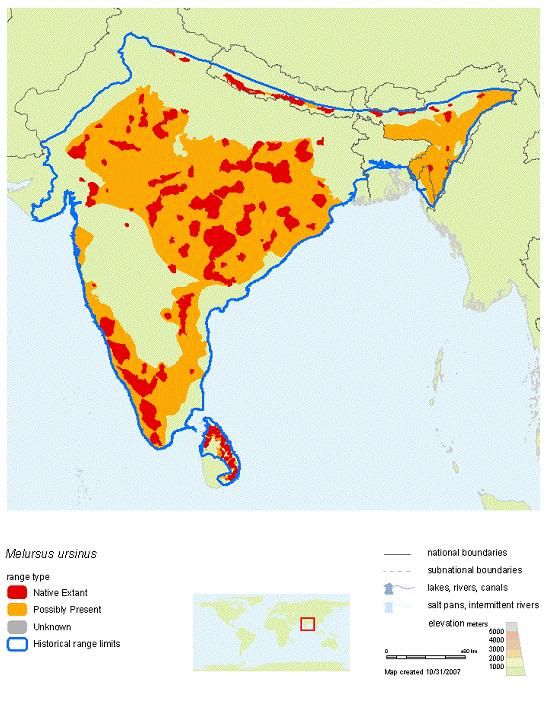 The sloth bear is entirely tropical and sub-tropical in distribution, endemic to the Indian subcontinent, perhaps evolved within its limits, and possesses several morphological, physiological and behavioural adaptations to the tropical habitat and the myrmecophagus (feeding on ants and termites) feeding niche it relies on. Most tropical regions are impacted by expanding human population and accompanying socio-economic inequality and underdevelopment. This has lead to the destruction of forest habitats and has put the wildlife of tropical regions in a precarious status. The sloth bear's range has shrunk in recent times and the populations have become fragmented, threatening its overall survival. Active management of the existing populations and their degrading habitat is necessary for the long-term conservation of the species.
Population Information
A mark-resight based population estimate is available for one park in Nepal; density was estimated at 27 bears/100km 2 for the whole park, and as high as 72 bears /100km 2 in a core area (Garshelis et al. 1999a). Other population estimates (guesstimates) exist for many other parks and reserves, but these were based on uncertain methodology (mainly just expert opinion gleaned from interviews and questionnaires). Good information is available on area of occupied range in India (Chauhan 2006, Yoganand et al. 2006), Nepal (Garshelis et al. 1999a), and Sri Lanka (Ratnayeke et al. 2006). Some attempts have been made to apply estimated densities in various protected areas to occupied area to obtain a rangewide population estimate. Depending on methods and data employed in this process, rangewide estimates vary from <10,000 to somewhat >20,000 (Garshelis et al. 1999b, Chauhan 2006, Yoganand et al. 2006). None of these estimates are considered reliable enough to track changes in population size.
Habitat and Ecology Information
Sloth bears subsist primarily on termites, ants, and fruits. This is the only species of bear adapted specifically for myrmecophagy (ant and termite-eating; Garshelis et al. 1999b, Sacco and Van Valkenburgh 2004). The ratio of insects to fruits in the diet varies seasonally and geographically (Baskaran et al. 1997, Joshi et al. 1997, Bargali et al. 2004, Sreekumar and Balakrishnan 2002). Sloth bears occupy a wide range of habitats on the Indian mainland including wet or dry tropical forests, savannas, scrublands, and grasslands (Joshi et al. 1995, Sreekumar and Balakrishnan 2002, Akhtar et al. 2004, Ratnayeke et al. in press). They are primarily a lowland species. Most sloth bear range in India and Nepal is limited to habitats below 1500m, although the species may occur as high as 2000m in the forests of the Western Ghats (Johnsingh 2003). In Sri Lanka, sloth bears are confined to the remaining dry forests in the north and eastern parts of the island, mostly below 300m (Ratnayeke et al. 2006). In areas where cover is sparse, and where daytime temperatures are high (a large part of the range), the bear is largely nocturnal or crepuscular and will shelter in rock outcrops, thickets, and tree cavities during the heat of the day. Although sloth bears may be active during the day in protected areas, they tend to be almost exclusively nocturnal in disturbed and fragmented forests interspersed with human habitations (Akhtar et al. 2004). Studies in Nepal and Sri Lanka suggest that sloth bears avoid areas where human disturbance is high, so crop depredation by sloth bears is typically rare (Joshi et al. 1995, Ratnayeke et al. in press). Conversely, in some parts of India, sloth bears routinely raid peanut, maize, and fruit crops (e,g., Chhangani 2002). Chauhan (2006) suggests that such crop depredations may occur because these habitats are severely affected by human exploitation, including the extraction of several food sources for bears. Sloth bears typically breed during June-July, and females give birth, usually to one or two cubs, during November –January (Laurie and Seidensticker 1977, Joshi et al. 1999, Chauhan et al. 2003). Cubs typically ride on the mother's back during their first nine months, presumably to reduce the risk of predation. Cubs remain with their mothers for 1.5–2.5 years.
Nomenclature and taxonomy
The first description of the sloth bear was given by Shaw (Shaw and Nodder 1791) who named it Bradypus ursinus or a bear-like sloth. This species was initially assumed to be a sloth because of the shared characteristics with sloths – long claws and the absence of upper middle incisors (Erdbrink 1953). Meyer (1793, cited in Erdbrink 1953) was the first to recognise this animal as a bear and not a sloth, and gave it an appropriate name Melursus lybius. De Blainville (1817) gave it the name Ursus labiatus, identifying the animal as belonging to the genus Ursus.
Lydekker (1884, cited in Erdbrink 1953) felt that this species should be placed in the genus Ursus, because the dentitional differences from other bears are not so great as to warrant a separate genus. On account of other significant differences, Erdbrink (1953) suggested recognition at a subgenerical level and named it Ursus (Melursus) ursinus Shaw. Although the subfamily Ursinae is agreed to be of monophyletic origin, there is disagreement as to the relationship within the subfamily. Goldman et al. (1989) suggested that all ursids should be classified in the single genus Ursus. Talbot and Shields (1996) supposed that the greater morphological divergence of sloth bear was likely to be due to recent adaptive change and not accompanied by molecular evolution. Waits et al. (1999) examined the phylogenetic relationships of the bears using mitochondrial DNA analyses and attempted to resolve outstanding ambiguities. They concurred with earlier studies (Zhang and Ryder 1993, Talbot and Shields 1996) that the sloth bear is the basal ursine bear (Figure 1) and a sister taxon to the later five species of bears (excluding the giant panda and the Andean (spectacled) bear that diverged much earlier). The genetic and morphological differentiation of the sloth bear therefore supports the separate placement in the genus Melursus (Wozencraft 1989, Corbett and Hill 1991, Waits et al. 1999). Pocock (1933) distinguished two races: the first, Melursus ursinus ursinus, occurring in continental India and the second, Melursus ursinus inornatus, found only in Sri Lanka. The Sri Lankan race has much shorter hair on the body, making it appear less shaggy. Also the race inornatus is smaller in general dimensions, including the dimensions of teeth (Erdbrink 1953). Nevertheless, these observations are yet to be objectively assessed.
Evolutionary history
The sloth bear may have existed in its present form from the beginning of the Pleistocene Epoch (Erdbrink 1953), a period when the bears speciated and dispersed (Kurten 1968, Talbot and Shields 1996). A fossilised fragment of a humerus bone from the Pleistocene was found in the Kurnool basin of Andhra Pradesh and it is identical to modern specimens. According to Erdbrink (1953), it is not clear if the fossilised cranium from the early Pleistocene or late Pliocene found in the Shivaliks, is an intermediate stage between the sloth bear and the ancestor of the brown bear (Ursus arctos). This fossil, named Melursus theobaldi by earlier workers, has teeth of intermediate size between M. ursinus and other bears. However, because this fossil has a palate of the same peculiar form as present day sloth bear, Erdbrink believed that M. theobaldi is clearly a direct ancestor of the sloth bear.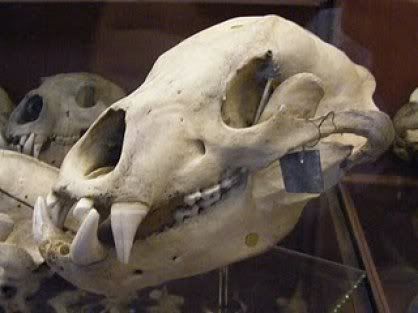 The sloth bear probably radiated from the ancestral stalk of ursids during the mid-Pliocene (Erdbrink 1953, Kurten 1968, Goldman et al. 1989, Talbot and Shields 1996) and evolved within the subtropical region, developing several morphological characteristics suited to its feeding niche and its habitat. Several features of the sloth bear appear to be concordant with the convergent evolution in other mammalian anteaters (Redford 1987, Joshi et al. 1999), including low reproductive rate, solitary habits, extended parental care, extensive carrying of young by the mother, and a low basal metabolic rate (McNab 1992). However, the low reproductive rate, solitary habits and extended parental care are features of the Ursidae in general. The basal metabolic rate of sloth bear too is similar to the omnivorous American black bear (Ursus americanus) (McNab 1992). Thus, it appears that the only feature that distinguishes the sloth bear from other omnivorous bears is the carrying of the young. This feature, however, is more likely to have been evolved because of predation pressure in the sloth bear habitat rather than myrmecophagy (Joshi et al. 1999).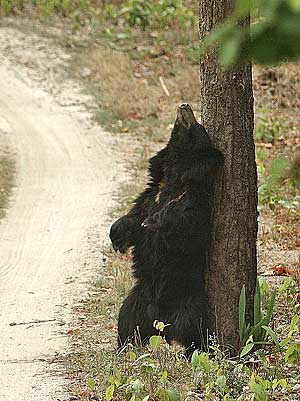 Physical characteristics
Sloth bears are typically black, but sometimes have a blackish brown tinge on the coat. Rarely, fully brown individuals have been observed (Pocock 1933, Prater 1965, Brander 1982). A V- or U-shaped, whitish or buff coloured breast patch is present, although lacking in rare cases, as in some Sri Lankan individuals (Pocock 1933). The long, pale muzzle is sparsely covered with thin, short, greyish white hair. The forehead region from just below the eyes up to the ears, and sides of the head are covered with short black hair. The neck region, from behind their thick ears to the shoulder, possesses dense, long hair (up to 30 cm long). The rest of the body is covered with long coarse hair, perhaps variable in colour, texture and length according to season (Pocock 1933), and lacks underfur.
Previous observations indicate that breeding takes place mainly in June in India and during most of the year in Sri Lanka. Pregnancy lasts about 6-7 months. The young, usually one or two and rarely three, are born in a ground shelter. They leave the den at 2-3 months and often ride on the mother's back. They remain with the mother until they are almost full grown, possibly 2 or 3 years. Captives have lived for 40 years.
The sloth bear normally is not aggressive but is held in great respect by some of the people that inhabit its range. Apparently because of its poor eyesight and hearing, it is sometimes closely approached by humans. It may then attack in what it considers to be self-defense and inflict severe wounds. Since it is thought to be dangerous, and since it sometimes damages crops, it has been extensively hunted. It also seems not to tolerate regular human disturbance and is losing habitat to agriculture, logging, settlement, and hydroelectric projects (IUCN 1978).
Total numbers surviving throughout the range of the species are estimated at 7,500-10,000 individuals (Nobbe and Garshelis 1994). A major problem that only recently has received general recognition is the killing of 11. ursinus for its body parts, which then are sold into international commerce and eventually used for food, alleged medicines, and decorative purposes, much the same as described above in the account of Ursus thibetanus. Bile from the gallbladder is widely used in the Orient to treat diseases of the liver, heart, and stomach, and bear paws are prized for consumption (Rose and Gaski 1995). Based on data showing the number of bear gallbladders exported from India to Japan from 1978 to 1988, Servheen (1989) calculated an annual kill of 728-1,548 sloth bears, probably a substantial part of the remaining populations. Such information contributed to the placing of Lf. ursinus on appendix 1 of the CITES in 1988, and the species now is also classified as vulnerable by the IUCN.
Threat Information
Major threats to this species are habitat loss and poaching (Johnsingh 2003, Chauhan 2006). Habitat has been lost, degraded, and fragmented by overharvest of forest products (timber, fuelwood, fodder, fruits, honey), establishment of monoculture plantations (e.g., teak, eucalyptus), settlement of refugees, and expansion of agricultural areas, human settlements, and roads (Santiapillai and Santiapillai 1990). Poaching, mainly for the commercial trade in bear parts, has been reported (Servheen 1990, Garshelis et al. 1999b), but its current extent and impact on bear populations is uncertain. Poaching also occurs for local use (e.g., male reproductive organs used as aphrodisiac; bones, teeth and claws used to ward off evil spirits; bear fat used for native medicine and hair regeneration; Santiapillai and Santiapillai 1990, Chauhan 2006). Capture of live cubs for use as "dancing bears" remains a significant threat in some parts of the range (Seshamani and Satyanarayan 1997). Also, in some parts of the range, encounters between people and sloth bears have led to numerous human injuries and many deaths (Rajpurohit and Krausman 2000, Bargali et al. 2005, Chauhan 2006). Such incidents tend to occur where people frequently use bear habitat, and where the habitat has thus become severely degraded. Bears that attack or threaten to attack people may be destroyed. The only natural threats to sloth bears are tigers (Panthera tigris) and possibly leopards (P. pardus). In fact, the threat of tiger predation may account for the very aggressive nature of sloth bears (Joshi et al. 1999). Sloth bears have been observed fending off approaches by tigers, but they have also occasionally been observed as a prey item of tigers (e.g., Gopal 1991).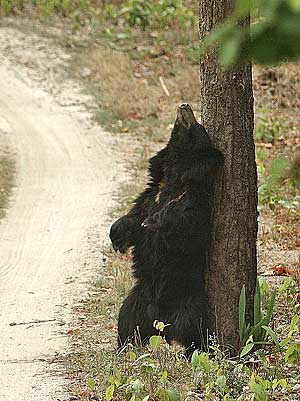 Conservation Measures
Sloth bears are reported to exist in 174 Protected Areas in India, which include 46 National Parks and 128 Wildlife Sanctuaries (Chauhan 2006). Populations appear to be reasonably well protected inside these PAs, but faced with deteriorating habitat conditions outside PAs (Santiapillai and Santiapillai 1990, Akhtar et al. 2006). Reduced cover and food resources outside PAs (Akhtar et al. 2004) have led to increased bear– human conflicts, including frequent maulings (Bargali et al. 2005). It is estimated that half to two-thirds of the sloth bears in India live outside PAs. About half the occupied range in Sri Lanka is outside PAs (Ratnayeke et al. 2006). Sloth bears are listed in Appendix I of CITES and are completely protected under Schedule I of the Indian Wildlife Protection Act. They are also protected to varying degrees by national laws in the other range countries. However, they can be killed to protect life or property. Given the aggressive nature of this animal, and the increasing number of encounters between bears and people, these bears are widely feared. Although education may help to reduce bear-human conflicts and enhance a conservation ethic among locals, the root of the problem is largely related to deteriorating habitat, which increases the chance of interaction between people and bears. Thus, habitat improvements (government or community-based reforestation) would be helpful in alleviating such conflicts.
Literature
To be continued....