Post by grrraaahhh on Oct 24, 2010 19:32:21 GMT -9
DESCRIPTION
(U.) a. beringianus of middendorff, 1851 - [Ussuri brown bear, black grizzly or horse bear].
Ursus of arctos of beringiana of middendorff, 1851: 74 (March - reprint), 80 (June, periodical) [[Bol]. [Shantar], the Shantar Islands; Ogenev (1931) erroneously indicated as standard location on Mal. [Shantar]; see: Abramov, [Baryshnikov], 1990: 8; lecture (Ognev 1931: 94): skull, [ZIN] 0.1226
ad, are studied]. - U. lasiotus of gray, 1867: 301 (see the synonymy species). - U. mandchuricus of Heude, 1898: 23, PI. VII, fig. 1-le (see the synonymy of species). - U. arctos of sachalinensis of Alekseeva, Alekseyev, 1996: 81 (Sakhalin, on [tavtonimii]; standard material is not designated).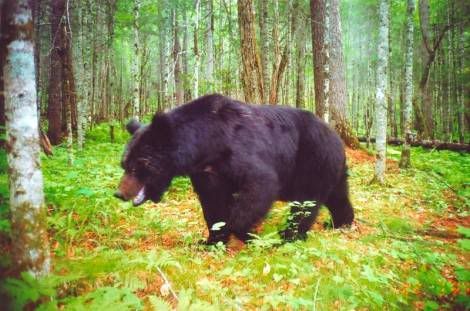 Igor, E. Chestin writes about the combining of the two subspecies, (U. a. lasiotus and U. a. mandzhuricus, previously described by Ognev (1924) into one, U. a. lasiotus (Geptner et al. 1967). Later these forms were separated again (Tikhonov 1986), which is probably as it should be. However, the author did not offer any data in support of his conclusion. The numbers of these two forms are 9500-10000 and 3000- 3500, respectively (Chestin et al. 1992).


Distribution of U. a. lasiotus occurs in the Far East (Primorye, & Amur Region, Russia) to the south of U. a. yeniseensis. Further south, U. a. mandzhuricus inhabits the region along the Amur river near the boundary with China, into northern Manchuria and north Korea reaching to the Islands of Shantar, Sakhalin and Hokaido (Japan).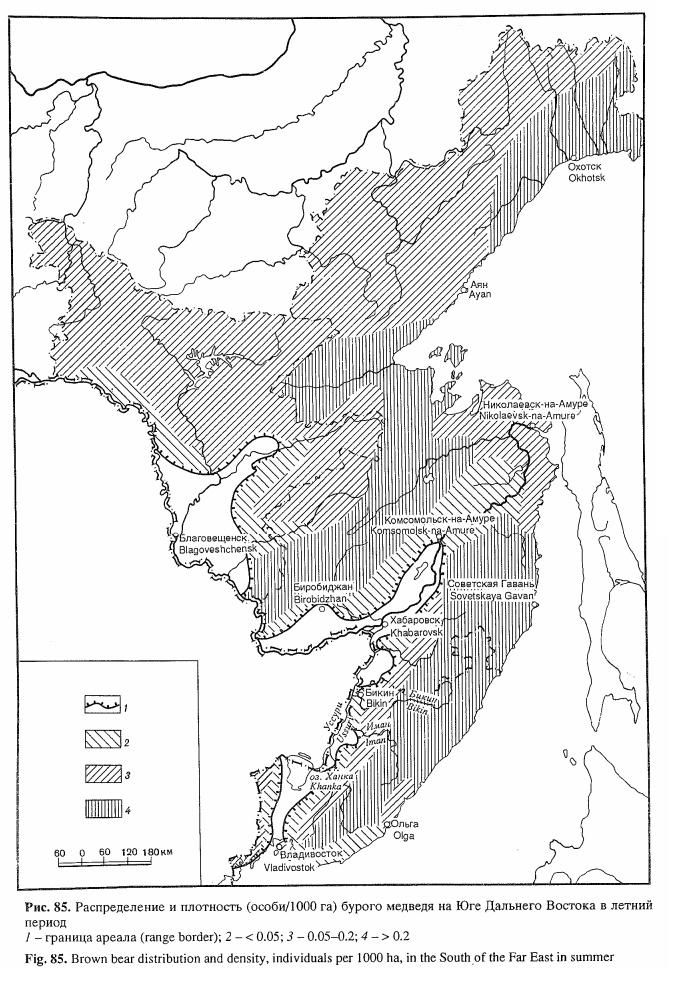 Population data in the Far of East show 2-2,500 bears in Amur area and 2,300 in Promoria (Seryodkin 2006). In the northeast of China brown bear population continues their decades decline. Timber cutting and poaching have pushed down brown bear numbers with estimates at near to under 1,000 copies in the greater Manchuria areas of Da Xinganling, Xiao Xinganling, northern Heilongjiang, Jilin, and Liaoning (Jien & Harris 2006).







Ecology. In the Ussuri taiga are found high portions of diet activity of timber of Korean cedar and the abundance of oak-wood on the [deforested] in the last century mountain slopes. It will be appropriate note that here - the reign not only of brown and Himalayan bears, but also wild boar, tiger, red deer and furry beasts.


<<<<<<<<<<>>>>>>>>>>>>>>


To be continued....