Post by grrraaahhh on Oct 8, 2012 12:45:37 GMT -9
Next:
Yoganand K. revisited.
Arguably, the best info on tiger & sloth bear relations I have come across. Three cheers for Dr. K. Yoganand!!!
Yoganand K. revisited.Notable material extracts
"Sloth bears exhibit several adaptations to their sub-tropical and tropical habitat and to their diet. To suit the tropics, it has no underfur; however, it has a long coat that perhaps helps in defending it from insect bites and also perhaps to exaggerate its size to predators (such as tiger and leopard) or conspecifics."
"Cubs are born in secure dens (either natural caves or dens dug by the mother bears). A litter size of two is most common (Laurie and Seidensticker 1977, Joshi et al. 1999, this study). Cubs are frequently carried on their mothers' backs from the time they leave the den until they are about six months of age (Laurie and Seidensticker 1977, Joshi et al. 1999). Carrying cubs by the mother seems to be a defence against attacks by predators or other bears. Cubs stay with their mothers for 1.5 to 2.5 years, becoming independent just before the breeding season (Joshi et al. 1999). Thus, females breed at either two- or three-year intervals. Predation has been surmised to be responsible for several behavioural traits of the sloth bear. Tigers attack and kill sloth bears occasionally (Joshi et al. 1999, personal observations), however encounters between them are fairly common (unpublished data). Leopards, dholes, and even jackals could be threats to sloth bear cubs. Sloth bears do not climb trees as a means of escape or in response to disturbance."
"Tigers attack and kill sloth bears only occasionally (Laurie and Seidensticker 1977, Joshi et al. 1999 and the references therein), however encounters between them are fairly common (unpublished data). For sloth bears, avoiding being active in the times when tigers are active may provide the benefit of decreased encounters with them and thereby decreased predation or risk of predation, and this might translate to an increased investment of their time and energy for survival and reproduction."
Why are the sloth bears aggressive?
"While sudden encounters in poor visibility habitats may be a proximate factor determining the probability of attacks, the ultimate factor might be the defensive response of sloth bear to humans that manifests as an aggressive disposition. Sloth bears probably evolved within the Indian subcontinent sympatrically with larger predators such as the tiger. The evolutionary pressures of predators may have influenced the development of aggression in sloth bears (Plate 14b). Laurie and Seidensticker (1977) suggested that the aggressive behaviour of sloth bears may be a consequence of not being able to rely on trees for escape, in a habitat that holds tree-climbing predators like the leopard, and also makes it advantageous to live in fairly open habitats. Incidents of sloth bear mortality caused by predators have been reported from several places in its range (reviewed in Joshi et al. 1999). In Panna, sloth bears had several agonistic interactions with tigers and were also occasionally killed by tigers (unpublished data). Sloth bear cubs seldom climb trees to avoid predators. Therefore, offence may be the mother bears best defense strategy and this strategy has been considered to have important survival value for the grizzly bear cubs (Herrero 1970). However, there are also costs associated with attacking humans. Therefore, the bears may be making decisions based on the risks and benefits of attacking (or may have developed it over evolutionary time) and might not be acting arbitrarily, contrary to popular belief.
Aggression may have also developed due to competition among conspecifics over resources. The aggressiveness of the sloth bear is perhaps adaptive in their interactions with conspecifics, predators like tiger, leopard and other sympatric mammals like elephants and rhinos, and the bear may show the same kind of reaction to humans (Laurie and Seidensticker 1977, Herrero 1985, Garshelis et al. 1999). Humans might have been occupying the Indian subcontinent for at least 4000 years and probably have had regular agonistic interactions with the sloth bears. As a consequence, sloth bears may have evolved aggressive reactions towards humans. In the last 200 years or so, human persecution of bears has been more severe (Dunbar-Brander 1926, Rangarajan 1996, 2001) and these interactions might have reinforced the negative perceptions of humans. Sloth bears have been observed to have low tolerance towards people and conflicts with humans are common in most of its range (Garshelis et al. 1999, Yoganand et al. in press)."
"My observations on interactions that sloth bears had with conspecifics, tigers and humans in Panna indicate that there are several responses that are common in these interactions, particularly in the way sloth bears reacted to both tigers and humans. Sloth bears actively avoided tigers and humans when they became aware of their presence in advance. When they heard suspicious sounds made by humans, tigers, or even alarms raised by other animals such as sambar (Cervus unicolor) or common langur (Trachypithecus entellus) to the presence of predators or humans, the bears became vigilant. They paused their activity and waited for further sounds or scents, looked in the direction of the sound, or exhibited such vigilant behaviour. When the bears sensed the presence of adversaries, they stopped their activity, moved in a different direction or even took shelter under secure cover. Sometimes, they did not emerge out of dens until long after their usual times of start of activity. Occasionally they also fled on sensing a threat, or at other times, they rushed towards the tiger or the human. Similar reactions were also observed in Chitwan NP, Nepal. At close quarters, sloth bears reacted to humans and tigers similarly, often by roaring and running away, or roaring and attacking before retreating (Laurie and Seidensticker 1977). These observations indicate that the bears perhaps perceived humans as predators or equivalent to predators. However, a peculiar behaviour that I observed that may confound other observed patterns to a considerable extent is that the bears while foraging, were often quite preoccupied and did not pay attention to things other than searching for food, unless there was sound or scent coming by its way. Several times, when I was still and silent the bears approached me (mostly when in a jeep or treetop, but sometimes even when on foot) without noticing me, coming as close as a distance of 10 m, usually after which I made noise and scared it away."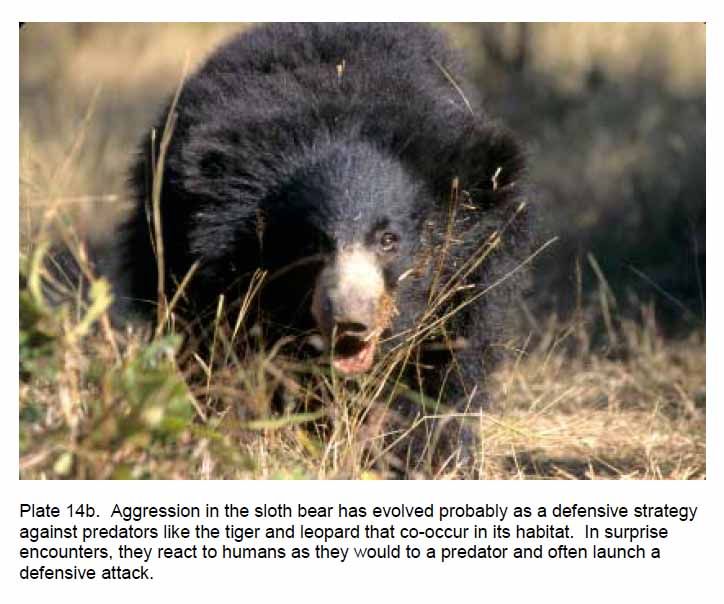 Credit: Yoganand K.
To be continued.....