Post by grrraaahhh on Mar 30, 2011 12:36:02 GMT -9
This thread examines the northernmost populations of North American grizzly bear populations stretching from the Canadian North West Territories to the Brooks Range mountains and North Slope Alaska to the open tundra to the sea coast. Sparse food conditions make these populations of brown bears some of the smallest in terms of size and weight but also one of the most predatory. The lowland dwelling barren ground grizzly bear (U.a.richardsoni) or Arctic tundra grizzly have even encroached into polar bear territory including Hudson Bay, Canada and in some cases successfully mated with polar bears. The thread will focus on a range of issues facing these bears; their biology, demography, diet, conservation challenges (ANWR), etc.
Not Your Average Griz
Although genetically identical to the eight-foot, 900-pound coastal brown bears of southern Alaska, the barren ground grizzly rarely tops six feet and 500 pounds. A scarcity of food in northern Alaska makes these grizzlies smaller, and they behave very differently from coastal brown bears. Well-fed brown bears sleep a lot and shamble around a ten-square-mile territory. In contrast, hungry barren ground grizzlies can prowl 5,000-square-mile territories, constantly sniffing the air for scent. In the Arctic—where there are no streams filled with fat salmon, no forests to provide shade or cover, and food gathering is cut short by the long winters—the omnivorous barren ground's mission is simple: relentlessly hunt down and consume every available scrap of food.
www.nationalgeographic.com/advent....ly_attacks.html
Above: a large female grizzly bear walks across arctic tundra lit up in fall colors.
The Barren Ground Grizzly bear Encroaches into Polar Bear Territory: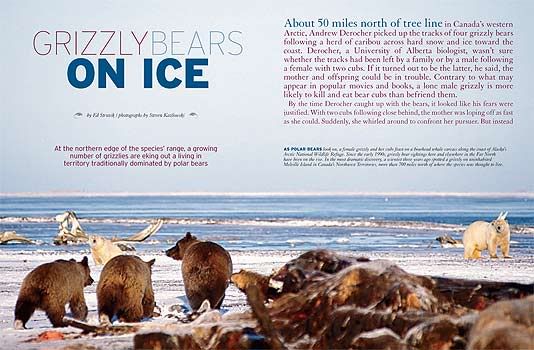 www.nwf.org/News-and-Magazines/National-Wildlife/Animals/Archives/2006/Grizzly-Bears-on-Ice.aspx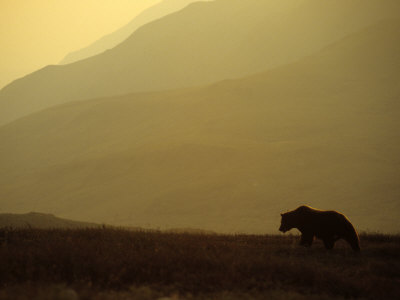 Above: Grizzly Stalks the Alaskan Tundra, Denali National
Park, Alaska.
Brooks Range
NWT (Canada)
DISTRIBUTION Found on the mainland of the Northwest Territories and Nunavut north of the tree line and east of the Mackenzie River Delta, but including the Tuktoyaktuk hunting area. A few are also found on the south coast of Victoria Island, these evidently having crossed from the mainland on winter ice. This is the northern limit of brown bear range in North America. Food is scarce, shelter minimal, and long hibernation a necessity. Thus the barren ground grizzly requires the largest home range and has the lowest density and reproductive rate of any North American brown bear. It occurs in small, thinly scattered populations that are largest in western parts of its range, declining gradually toward the east until it almost disappears east of Chantrey Inlet and north of Wager Bay.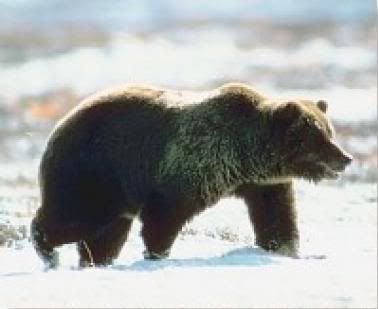 ANWR
arctic.fws.gov/
Conservation challenges