Post by grrraaahhh on Feb 9, 2011 23:05:14 GMT -9
The California grizzly bear was designated the official State Animal in 1953. Before dying out in California, this largest and most powerful of carnivores thrived in the great valleys and low mountains of the state. As California began to populate, the grizzly stood its ground, refusing to retreat in the face of advancing civilization. It killed livestock and interfered with settlers. Less than 75 years after the discovery of gold, every grizzly bear in California had been tracked down and killed. The last one was killed in Tulare County in August 1922. More than 20 years later, the authority to regulate the taking of fish and wildlife was delegated to the California Fish and Game Commission by the State Legislature.
Figure 3: California grizzly bear (Anonymous painting, 1856). Grizzly bears were once abundant throughout California where they had managed to co-exist with Native Americans for thousands of years. Like bears today in Alaska, they presumably fed heavily on the abundant salmon in the rivers as well as on a wide variety of other foods, with individuals roaming widely. European American settlers, however, regarded them as competitors and as predators on livestock, and so hunted them into extinction. The last grizzly bear in California was killed in 1922.
Grizzly bear fishing, C Hart Merriam Pictorial Collection, The Bancroft Library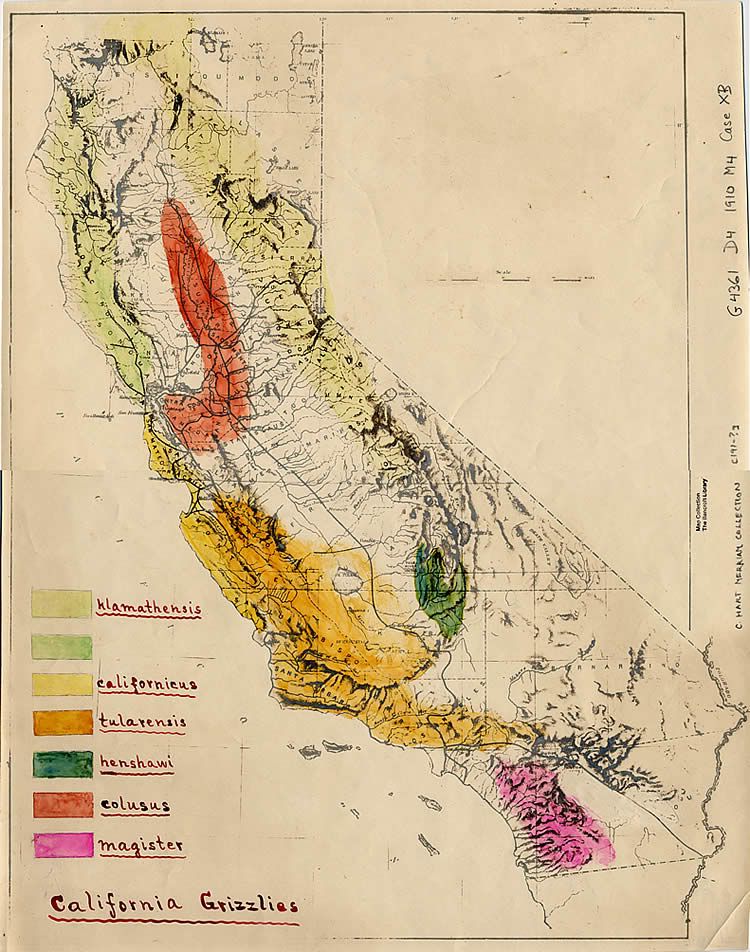 C. Hart Merriam's hand-colored map shows the distribution of the seven subspecies of the California Grizzly he identified and described.
Extracted text from the material of C. Hart Merriam in
Review of the Grizzly and Big Brown Bears of North America
1918:
URSUS CALIFORNICUS Merriam. California Coast Grizzly.
[Ursus horriaus] subspecies californicus Merriam, Proc. Biol. Soc. Washington, X, pp. 76-77, April 13, 1896.
Vrsus californicus Merriam, Proc. Biol. Soc. Washington, XXVII, pp. 186, 188, August 18, 1914.
Type locality.—Monterey, California.
Type specimen.—Skull No. 3630, (male) old, U. S. National Museum.
Range.—Humid coast region of California from San Francisco Bay south about to San Luis Obispo (apparently passing into tularensis in the dryer interior).
Characters.—Size large; claws long and smooth; pelage variable. Dentition heavy; last upper molar large, its heel long and broad.
Cranial characters.—Adult male: Skull long and narrow; vault of cranium flat—not arched; frontal shield flat (or concave medially), short pointed posteriorly, gradually sloping almost in same plane with rostrum (dishing slight); temporal impressions beaded; postorbitals massive and moderately spreading; zygomata slightly bowed; rostrum long, slightly compressed in front of orbits; nasals nearly horizontal, slightly rising posteriorly in plane of shield; frontal shield moderately broad, slightly swollen over orbits, the point lost in sagittal crest 25 to 50 mm. anterior to fronto-parietal suture; postorbital processes strongly developed, subtriangular, rather massive, outstanding, and slightly decurved over orbits; sagittal crest strongly developed and nearly straight; squamosal shelf broad; squamosal base of zygoma vertically expanded in aged skulls; frontal part of braincase in young-adult skulls somewhat elevated and tending to " keel" into crest; mastoid processes long; interpterygoid fossa long and usually narrow; underjaw long and massive, ramus broad vertically. Teeth large and heavy; M-2- subrectangular, heel long, broad posteriorly. Skull of female: Similar to that of male, but smaller.
Cranial comparisons.—Adult and old male compared with adult male klamathensis (type): Skull longer; zygomatic breadth essentially the same; face and rostrum longer; rostrum more compressed in front of orbits; fronto-nasal region more dished; frontal shield more concave medially and more swollen at orbital rims; postorbital processes much more massive, slightly arched, the tips slightly de-curved; temporal beads more strongly incurved; sagittal crest shorter posteriorly; lambdoid crest more outstanding laterally; occipital overhang much less; squamosal shelf behind zygoma much shorter; occipito-sphenoid and palate longer; mastoids much longer and more strongly outstanding. Underj aw much longer. Dentition heavier, the last upper and middle lower molar in particular much larger; heel of M2- very broad and broadly rounded posteriorly.
Old male from Monterey, compared with old male colusus (type, from Sacramento Eiver): Fronto-nasal region slightly higher and less depressed; rostrum higher, less depressed, and less horizontal; postorbitals much larger and more swollen; orbital rims more swollen; orbits more nearly vertical, squamosal base of zygoma more expanded; palate narrower anteriorly; ramus much broader vertically, its inferior border less convex in middle part and more bellied posteriorly; apex of coronoid more produced posteriorly; angular process larger and longer; mastoids longer and directed less anteriorly, not reaching so near glenoid process. Dentition stronger and strikingly din3erent: canines larger; upper incisors and both upper and lower molars very much larger; heel of large and not normally emarginate.
Skull measurements.—Old male (type): Basal length, 361; oc-cipito-nasal length, 346; palatal length, 196; zygomatic breadth, 224; interorbital breadth, 82.
More to come....