Post by grrraaahhh on Feb 22, 2012 4:27:37 GMT -9
(TEMPORARY PROFILE)
Population
During the past two decades, most American black bear populations have grown both numerically and geographically (Williamson 2002). Sixty percent of U.S. and Canadian states and provinces report increasing populations, and all other populations appear to be either stable or fluctuating with no clear trend (Garshelis and Hristienko 2006). Based on sums of estimates for individual states, the total U.S. population, excluding Alaska, is estimated at somewhat greater than 300,000. No reliable estimate exists for numbers of black bears in Alaska, although most authorities presume there to be 100,000–200,000 animals. Similarly, large populations in some parts of Canada are not reliably known, but countrywide estimates centre around 450,000 (principally in British Columbia, Ontario, and Québec). Thus, the total number of black bears in North America is likely within the range 850,000–950,000. No population estimates exist for the country of Mexico, although some areas within Mexico have high and increasing black bear densities (SEMARNAP 1999, Doan-Crider 2003).
DISTRIBUTION.
Ursus americanus is the more widely distributed of the 2 North American bears. It is present in all Canadian provinces and territories except Prince Edward Island (Fig. 3). In the United States, American black bears are omnipresent except in arid areas of the Southwest (Kolenosky and Strathearn 1987). U. americanus also occurs in the Sierra Madre Occidental and Sierra Madre Oriental of Mexico.
FOSSIL RECORD
Ursine bears originated in the mid-Pleistocene (Kurte´n and Anderson 1980). All species of Ursidae diverged from a common ancestor 4–8 3 106 years ago (Goldman et al. 1989). Fossil records of U. americanus range from early Irvingtonian to Recent (Kurte´n and Anderson 1980; Savage and Russell 1983). U.americanus was the most common ursid in the late Rancholabrean of North America (Kurte´n and Anderson 1980). The closest living relative of U. americanus is either the Old World species U. thibetanus (Talbot and Shields 1996) or the sun bear (Helarctos malayanus—Zhang and Ryder 1994). U. americanus probably arose from a Holarctic population represented in North America by U. abstrusus (Savage and Russell 1983). Early forms were small but gradually increased in size through the late Irvingtonian and Rancholabrean (Kurte´n and Anderson 1980; Nagorsen et al. 1995). Late Pleistocene American black bears generally were larger than modern American black bears from the same area (Graham 1991).
Black bear skeleton remains: Black bear Plunge Greenbriar Co, West Virginia.
ECOLOGY & DIET.
The American black bear requires a variety of habitats producing seasonal foods, as well as extensive and secluded areas for denning (Landers et al. 1979; Vander Heyden and Meslow 1999). Overall, habitat selection by U. americanus varies seasonally and is governed by presence of food (Clark et al. 1994; Fuller and Keith 1980; Hellgren et al. 1991; Schooley et al. 1994a). Disturbed habitats such as recently logged or burned forests are as important to American black bears as zones of high fruit and berry production (Costello and Sage 1994; Hellgren et al. 1991). Nonmanaged and mature hardwood forests can provide hard mast such as beechnuts (Fagus grandifolia) and acorns (Quercus—Costello and Sage 1994).
Throughout their range in North America, black bears consume primarily grasses and forbs in spring, soft mast in the form of shrub and tree-borne fruits in summer, and a mixture of hard and soft mast in fall. However, availability of different food types varies regionally. Only a small portion of their diet consists of animal matter, and then primarily in the form of colonial insects and beetles.
In spring, American black bears consume new vegetative growth and animal carcasses (Raine and Kansas 1990; Stubblefield 1993).
Spring, after emergence from winter dens, is a period of relative food scarcity. Bears tend to lose weight during this period and continue to subsist partly off of body fat stored during the preceding fall. They take advantage of any succulent and protein-rich foods available; however, these are often not in sufficient quantity to maintain body weight.
Ursus americanus feeds opportunistically, and animal matter (e.g., mammals, reptiles, birds, and insects) is consistently part of the diet (Boileau et al. 1994; Maehr and Brady 1984; Noyce et al. 1997; Smith et al. 1994a). American black bears may kill moose (Alces alces) cows (Austin et al. 1994) and calves (Franzmann et al. 1980; Schwartz and Franzmann 1991) and white-tailed deer (Odocoileus virginianus) fawns (Kunkel and Mech 1994; Ozoga and Verme 1982). In some areas, American black bears also kill livestock (Horstman and Gunson 1982). Where available, bears consume garbage (Stubblefield 1993) and bait set out by hunters (Landers et al. 1979).
Most vertebrates are consumed in the form of carrion. Black bears are not active predators and feed on vertebrates only if the opportunity arises. The diet of black bears is high in carbohydrates and low in proteins and fats. Consequently, they generally prefer foods with high protein or fat content, thus their propensity for the food and garbage of people. Bears feeding on a protein-rich food source show significant weight gains and enhanced fecundity (McLean and Pelton 1990).
As summer approaches, a variety of berry crops becomes available. Summer is generally a period of abundant and diverse foods for black bears, enabling them to recover from the energy deficits of winter and spring. Late summer and fall are critical periods for black bears to increase fat stores. Extensive foraging may occur and animals travel great distances to take advantage of available foods. Weight gains of > 1 kg/day have been recorded during this period (Jonkel and Cowan 1971). However, it is also a period of greater vulnerability to mortality. The extensive movements increase the chances of traveling into unfamiliar habitats and subsequent contact with people. During years of abundant fall foods, bears tend to forage longer before returning to their spring-summer ranges and entering winter dens.
During autumn, bears feed mostly on berries and mast (Irwin and Hammond 1985; Landers et al. 1979; Raine and Kansas 1990). Preferred foods typically are low in terpenes and high in either protein or carbohydrates (Bacon and Burghardt 1983; Kimball et al. 1998).
Endoparasites infecting U. americanus include the protozoans Eimeria albertensis, E. borealis, and Toxoplasma gondii (Briscoe et al. 1993; Rogers and Rogers 1976). Also, they host the trematode Nanophyetus salmincola, the metacercariae of which harbor 2 rickettsia-like organisms, Neoricketsia helminthoeca to which American black bears are refractory and an unnamed form that causes Elokomin fluke fever (Rogers and Rogers 1976). Cestodes from American black bears include the cyclophyllidean tapeworms Anacanthotaenia olseni, Mesocestoides krulli, cf. Multiceps serialis, Taenia hydatigena, T. krabbei, T. pisiformis, and T. saginata and the pseudophyllidean tapeworms Diphyllobothrium cordatum, D. cordiceps, D. latum, and D. ursi. Intestinal nematodes from American black bears include the roundworms Baylisascaris transfuga and B. multipapillata and the hookworms Uncinaria yukonensis and U. rauschi. Extraintestinal nematodes include the lungworm Crenosoma, the eye worm Thelazia californiensis, the mosquito ransmitted filarial worm Dirofilaria ursi, Trichinella spiralis from muscles, and Gongylonema pulchrum, which usually occurs in the esophagus or rumen of ungulates but occurs in the tongue of American black bears (Rogers and Rogers 1976). Ectoparasites from American black bears include the louse Trichodectes pinguis euarctidos, the fleas Chaetopsylla setosa, C. (Arctopsylla) tuberculaticeps ursi, Pulex irritans, and possibly Orchopeas caedens, and the ticks (Acarina) Dermacentor albipictus, D. andersoni, D. variabilis, and Ixodes (Rogers and Rogers 1976). Diseases are uncommon in U. americanus, but dental cavities and periodontal diseases may be frequent and severe in some populations (Manville 1990). Diseases of the heart may occur (LeCount 1987).
Ursus americanus live up to 23 years in the wild (Keay 1995a) and up to 24 years in captivity (Marks and Erickson 1966). Average annual survival rates for males and females, respectively, were 0.88 and 0.84 in Florida (Wooding and Hardisky 1994), 0.73 and 0.79 in Montana (Kasworm and Thier 1994), and 0.59 and 0.87 in Virginia and North Carolina (Hellgren and Vaughan 1989a).
In Alaska, ca. 14–17% of subadult males and 30–48% of subadult females survived to adulthood (Schwartz and Franzmann 1992). In Minnesota, overwinter mortality was ,1%, but yearling starvation was observed following emergence from hibernation (Rogers 1987a).
American black bears are vulnerable to overharvest (Kolenosky 1986). Because the mating system is polygynous, an adequate number of females is needed to provide a sustainable harvest (Schwartz and Franzmann 1992). Hunting reduces population size and lowers the mean age of males (Kolenosky 1986). Sex ratio of the harvest may be controlled by allowing hunting when pregnantfemales inhabit their winter dens (Lindzey 1981).
DESCRIPTION
Black bears are plantigrade and pentadactyl, and have short, curved, nonretractable claws. Average weights range from 40 to 70 kg for adult females and from 60 to 140 kg for adult males. An occasional adult male will exceed 250-300 kg. Body length ranges from 1 to 2 m. Black bears are generally full-grown at 4 years of age. The eyes are small; the ears are small, rounded, and erect; the tail is short. Fur is uniform in color except for a brown muzzle; an occasional white blaze occurs on the chest. The black color phase is most prevalent in the East and the brown phase most prevalent in the West (Rounds 1987). The color phase of an individual can change between molts (Rogers 1980). Unique white and bluish phases occur on the Pacific coast in the Northwest. The skull has a large cranium with prominent sagittal crest and zygomatic arches. The dental formula is I 3/3, C 111, P 4/4, M 2/3. The first three upper and lower premolars are usually rudimentary. Dentition is bunodont and refiects the black bear's omnivorous food habits. See Lariviere (2001) for details.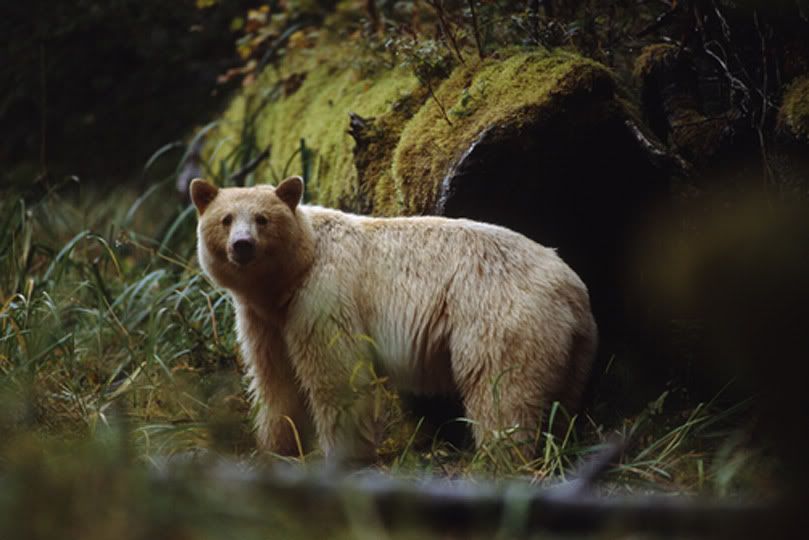 Spirit bear.
Glacier black bear.
REPRODUCTION
Female black bears become sexually mature between 2 and 7 years of age, normally at 3-4 years. Rausch (1961) suggested that age of reproductive maturity may increase with latitude. However, nutrition has a dramatic effect on age of reproductive maturity and subsequent fecundity offemales (Rogers 1976; Hamilton 1978). Years of poor berry or acorn production result in delayed first estrus, decreased litter sizes, and increased incidence of barren females (Eiler et al. 1989; Elowe and Dodge 1989; Noyce and Garshelis 1994).
Breeding occurs in summer and peaks in the latter part of June and July. However, females in estrus have been observed as early as late May and as late as mid-August (Jonkel and Cowan 1971). Black bears have a seasonally constant estrus; females remain in estrus until bred or until the ovarian follicles begin to degenerate. Within the breeding season, multiple matings may occur for both sexes (Schenk and Kovacs 1995). Black bears are induced ovulators (Wimsatt 1963; Erickson and Nellor 1964; Boone et al. 1998); ovulation occurs only as a result of coital stimulation. Poor nutrition may result in no implantation of the blastocysts, resorption of the implanted fetuses, or early death of the neonates (Hellgren et al. 1990).
The gestation period for black bears is 7-8 months. However, most fetal development occurs only during the last 6-8 weeks. Delayed implantation occurs in the black bear; blastocysts fioat free in the uterus and do not implant until late November or early December. Only minimal cell differentiation occurs before implantation (Wimsatt 1963). Cubs are born in winter dens at the end of January or the beginning of February. Young are altricial-helpless, hairless, and eyes closed at food can cause reproductive failure, thus initiating population-wide breeding synchrony (McLaughlin et al. 1994). Because of the relatively
low biological potential of the species, changes in the various factors influencing reproduction-age of reproductive maturity, number of cubs produced-can significantly alter population stability. Thus, low biological potential becomes an important consideration for management.
Interspecific predatory relationships
Adult U. americanus have few natural predators, but smaller or younger animals may be killed by bobcats (Lynx rufus—LeCount 1987), brown bears (Ursus arctos—Schwartz and Franzmann 1991; Smith and Follmann 1993), coyotes (Canis latrans—Boyer 1949), wolves (Canis lupus—Rogers and Mech 1981), or other American black bears (Alt and Gruttadauria 1984; Garshelis and Pelton 1981; LeCount 1982). Flooding of natal dens may kill cubs (Alt 1984), but most mortality is human induced through hunting, trapping, poaching, and collision with vehicles (Burton et al. 1994; Hellgren and Vaughan 1989a; Kasworm and Thier 1994; Rogers 1987a; Wooding and Hardisky 1994).
Black bears tend to escape competition from brown bears by being more active in the daytime, and living in more densely forested areas. Violent interactions resulting in the deaths of black bears have been recorded in Yellowstone National Park.
Black bears may compete with cougars over carcasses. Like brown bears, they will sometimes steal kills from cougars. One study found that both bear species visited 24% of cougar kills in Yellowstone and Glacier National Parks, usurping 10% of carcasses. Fights between the two species are rare, though they can be violent. Cremony, in his Life among the Apaches, describes an incident in which a cougar killed a black bear.
Black bear interactions with wolves are much rarer than with brown bears, due to differences in habitat preferences. The majority of black bear encounters with wolves occur in the species' northern range, with no interactions being recorded in Mexico. Despite the black bear being more powerful on a one to one basis, packs of wolves have been recorded to kill black bears on numerous occasions without eating them. Unlike brown bears, black bears frequently lose against wolves in disputes over kills. Wolf packs are known to kill black bears during their hibernation cycle.
There is at least one record of a black bear killing a wolverine in a dispute over food in Yellowstone National Park.
MORTALITY
Much of the mortality in black bear populations is human related and includes hunting, poaching, roadkills, and depredation control. During years of severe natural food shortages, young bears may starve and older bears are killed as they move greater distances in search of food. Some very old animals (> 15 years old) may suffer from serious dental problems (worn teeth, abscesses) and are rendered incapable of feeding. Also, some mortality is attributed to infanticide by males toward younger bears (LeCount 1987). Other forms of incidental natural mortality include flooding of winter ground den, lightning strike, snake bite, and falling from a tree. Mortality rates are highest among young bears after they leave their mother; this rate likely exceeds 35% (Kolenosky 1986). Mortality rate of males is twice that of females (Bunnell and Tait 1985). Although a number of neoplastic, rickettsial, viral, bacterial, and traumatic diseases have been reported for black bears, none appears to contribute greatly to the natural regulation of black bear populations. Black bears also exhibit a relatively low prevalence and diversity of parasites compared to other mammalian species. There are literature reports of 25 genera and 37 species of endoparasite and 8 genera and 12 species of ectoparasite in black bears (Hamilton 1978). As in other mammals, a greater prevalence and variety of parasites have been detected in the southeastern United States, where combined higher temperatures and humidity provide a more favorable environment. In this region, 22 different species of parasites have been recovered from black bears (Crum 1977).
Hunting
Historically, black bears were hunted by both Native Americans and European settlers. Some Native American tribes, in admiration for the black bear's intelligence, would decorate the heads of bears they killed with trinkets, and place them on blankets. Tobacco smoke would be wafted into the disembodied head's nostrils by the hunter that dealt the killing blow, and would compliment the animal for its courage. The Kutchin typically hunted black bears during their hibernation cycle. Unlike the hunting of hibernating grizzlies, which was wrought with danger, black bears took longer to awaken, and was thus safer and easier. During the European colonisation of eastern North America, thousands of black bears were hunted for their meat, fat and fur. Theodore Roosevelt wrote extensively on black bear hunting in his Hunting the Grisly and other sketches, in which he stated "in
chase there is much excitement, and occasionally a slight spice of danger, just enough to render it attractive; so it has always been eagerly followed". He wrote that black bears were difficult to hunt by stalking, due to their habitat preferences, though were easy to trap. Roosevelt described how in the Southern States, planters regularly hunted black bears on horseback with hounds. General Wade Hampton was known to have been present at 500 successful black bear hunts, two thirds of which he killed personally. He killed thirty or forty black bears with only a knife, which he would use to stab the bears between the shoulder blades while they were distracted by his hounds. Unless well trained, horses were often useless in black bear hunts, as they often bolted when the bears stood their ground. In 1799, 192,000 black bear skins were exported from Quebec. In 1822, 3,000 skins were exported from the Hudson's Bay Company. In 1992, untanned, fleshed and salted black bear hides were sold for an average of $165.


www.animalloversweb.com/blahdocs/uploads/tongue_bear_8528.jpg



In Canada, black bears are considered as both a big game and furbearer species in all provinces save for New Brunswick and Northwest Territories, where they are only classed as a big game species. There are currently 80,822 licensed black bear hunters in all of Canada. Canadian black bear hunts take place in autumn and winter, and both male and female bears can be legally taken, though some provinces prohibit the hunting of females with cubs, or yearling specimens.

Currently, 28 of the USA's states have black bear hunting seasons. Nineteen states require a bear hunting license, with some also requiring a big game license. In eight states, only a big game license is required to hunt black bears. Overall over 481,500 black bear hunting licences are sold per year. The hunting methods and seasons vary greatly according to state, with some bear hunting seasons including fall only, spring and fall, or year-round. New Jersey, in November 2010, approved of a six-day bear-hunting season in early December 2010 to slow the growth of the black bear population. Bear-hunting had been banned in New Jersey for five years.[ A Fairleigh Dickinson University Public Mind poll found that 53% of New Jersey voters approved of the new season if scientists concluded black bears were leaving their usual habitats and destroying private property.[Men, older voters, and those living in rural areas were more likely to approve of a bear-hunting season in New Jersey than women, younger voters, and those living in more developed parts of the state. In the western states, where there are large black populations, there are spring and year-round seasons. Approximately 18,845 black bears were killed annually in the USA between 1988–1992. Within this period, annual kills ranged from six bears in South Carolina to 2,232 in Maine.

According to Dwight Schuh in his Bowhunter's Encyclopedia, black bears are the third most popular quarry of bowhunters, behind deer and elk.



MANAGEMENT CONSIDERATIONS

Management options for optimizing American black bear habitat may include the following: maintaining a mosaic of successional stages, maintaining riparian habitat for foraging and traveling, maintaining den sites, decreasing tree damage, and minimizing conflicts with humans.

Silviculture: American black bears are habitat generalists that require a mosaic of habitat types and may have diverse responses to forest management. Effects of forest management on the American black bear vary depending on habitat type, landscape, and past management activities. Logging and prescribed burning may maintain a diversity of vegetation, increase cover, and increase the productivity of some important plants eaten by American black bears. The benefits of logging and prescribed burning on shrub growth decrease once the canopy closes. Logging and prescribed burning may decrease the availability of den sites, cover, travel corridors, and trees that produce hard mast. Disturbance of American black bears during timber harvesting may also create negative effects. Female adults with cubs often remain in their dens during timber harvest but may eventually abandon the site. Newborn cubs may die if forced to abandon dens in early spring. Despite food abundance in some logged areas, American black bears may avoid the centers of logged areas due to lack of cover and potential heat stress.

Rogers and Allen suggest that timber management provides a diversity of vegetational age classes in close proximity to each other. Ideally, 5% to 25% of an area should be managed as an unforested cover type. Season of harvest should be considered to avoid disturbance of denning sites and foraging areas. Logging should not occur in riparian areas, seeps, or wetlands because they provide important seasonal food resources. According to Weaver, management treatments in a central hardwood landscape should maintain a diversity of hard mast species, high mast yields, and perpetuate desired hard mast-producing species in future hardwood stands.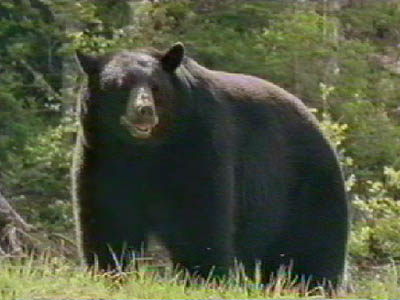 On the Bridger-Teton National Forest in Wyoming, Irwin and Hammond recommend providing a mosaic of successional stages by clearcutting in patches <25 acres (10 ha) on north- and east-facing slopes; planting fruit-producing shrubs in clearcuts; protecting old-growth stands of whitebark pine to provide American black bear food when berry production is low; maintaining low-elevation Douglas-fir forest on south-facing slopes; and cutting or burning quaking aspen to stimulate growth.

In southeastern Alaska, food resources for American black bears are abundant for 15 to 20 years following logging. In a 1974 report, Meehan suggests that small patch cuts or clearcut strips with blocks or strips of timber left between are ideal for maximum wildlife production. Logged areas that are <20 years old should be available at all times, as well as mature timber and edges.

If maximizing the preharvest mammalian community is a management goal in North American boreal forests, the rate of successional convergence to predisturbance, old-growth forest may be increased by doing the following: 1) leave "moderate" amounts of coarse woody debris in harvested areas; 2) leave snags and dead wood in close proximity to live trees to form clumps; and 3) leave >30% of mature trees as clumped residuals in harvested areas.

In Maryland, Fecske and others recommend maintaining mature mixed forest and wetland habitats. Plant conifers if necessary, and help to increase growth of rhododendron (Rhododendron spp.) thickets and other native shrubs for cover in maturing deciduous forest. On the Atlantic Coastal Plain, landscape-scale American black bear management is necessary to maintain large blocks of habitat relatively free from human activities. Pocosins and other wetlands types are important high-quality habitats for American black bear, and Jones and Pelton [state that these habitats should be maintained or restored. In seasonally-flooded forested wetlands, large trees (≥33 inches (84 cm) DBH) should be protected for Louisiana black bear denning sites.

Fragmentation of American black bear habitat from logging may make it difficult for American black bears to move between remaining habitat and may increase their vulnerability to predators. In ponderosa pine-mixed conifer habitat in north central Arizona, forest fragmentation influenced home range size, movement between usable habitat, and movement to important seasonal use areas. In fragmented habitat, American black bears were concentrated into smaller areas and became more vulnerable when moving between suitable habitat patches. Road systems created by logging also increased access by hunters. According to Mollohan and LeCount , American black bears must be managed carefully in fragmented habitat and further fragmentation should be avoided. Travel corridors should be provided between usable habitats.

Impacts of salvage logging depend on the number and condition of fire-killed trees that are retained in salvage cuts. Salvage logging may have negative impacts on wildlife by eliminating foraging and denning sites.

An American black bear habitat suitability model was created by Rogers and Allen for northeast Minnesota, northern Wisconsin, and Michigan's Upper Peninsula and the upper half of the Lower Peninsula. The model has 3 major components: 1) variables that estimate the abundance and quality of seasonal foods in specific cover types; 2) variables used to estimate the cover type composition within an area; and 3) a variable that is used to estimate the influence of human disturbance on the habitat quality of American black bear.

Snags and coarse woody debris: Large-diameter hollow trees and coarse woody debris are important for hiding, denning, and foraging on (see Denning and Food Habits). Cavity tree management includes maintaining existing cavity trees and snags, creating snags if they are absent, and leaving slash after logging for potential den sites. Preserving large trees and snags is particularly important in areas with high human use, marginal habitat, and areas where flooding may occur. Potential den sites should be retained in various aspects and elevations.

In Alaska, Alberta, British Columbia, the Pacific Northwest, California, the northern Rocky Mountains, and the northern Great Basin, Bunnell and others offer the following recommendations for the distribution of dead wood in a managed forest occupied by American black bears and other wildlife: maintain 2 to 3 large snags (>20 inches (50 cm) DBH in coastal habitat and >12 inches (30 cm) DBH in less productive habitat)) per hectare; maintain 10 to 20 smaller snags (size not given) per hectare; leave scattered logs 20 to 39 inches (50-100 cm DBH)) in 2 to 7 acre (1-3 ha) patches.

To manage for snags and coarse woody debris in the Pacific Northwest, the following management is recommended: 1) ensure sustained provision of dead and dying wood; 2) retain trees and snags of hardwoods and favored conifer species such as western larch, Douglas-fir, and ponderosa pine; 3) retain a range of size and age classes of dead wood; 4) meet dead wood requirements for large mammal species; and 5) limit salvage logging after fires. For more information about recommended size, species, and number of logs to retain in the Columbia River Basin, see Bull and others. See Naylor for guidelines on retaining cavity trees in eastern white pine and red pine forests in the Great Lakes-St Lawrence forest of central Ontario. See Davis for recommendations on management of American black bear dens in western British Columbia.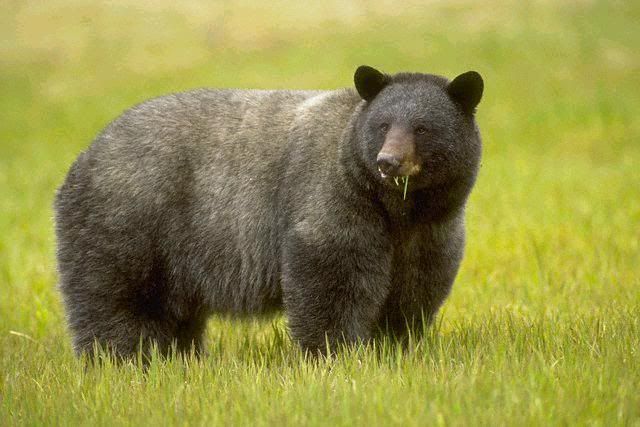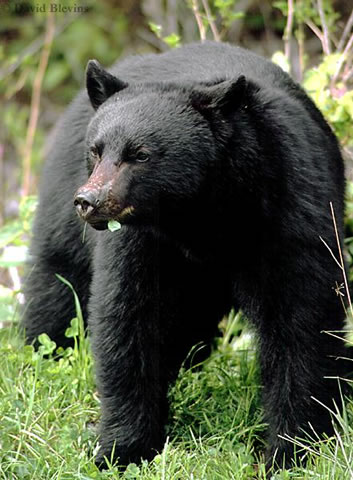 To provide maximum use of slash piles for wildlife, Allen suggest that slash piles be 100 × 25 feet (30 ×8 m) in size and adjacent to forested cover if possible. To provide sites for ground dens, Weaver suggests piling felled tops of trees and promoting thick regeneration. White and others recommend minimizing logging debris at low elevations (≤148.0 feet (45.1 m)) to reduce the probability of Louisiana black bears choosing flood-prone areas to den.

Retention of coarse woody debris is encouraged to provide insects for American black bear consumption (see Food Habits). As logs decay, insect activity on the exterior and interior of the wood increases, enhancing the value for American black bears. Bull and others suggest retaining coarse woody debris in a variety of sizes and decay stages to enhance ant diversity.

Hard and soft mast management: Hard mast and soft mast are important seasonal foods for the American black bear (see Food Habits). Management that promotes the establishment, diversification, proliferation, and perpetuation of soft mast-producing species is encouraged. In some locations, the temporary paucity of hard mast may be offset by the availability of soft mast, so ideally, both should be managed.

Oak regeneration is hampered by consumption of acorns by animals, insect damage of acorns, and competition by shade-tolerant vegetation. Recommendations to promote oak acorn production in eastern North America include 1) periodic thinning to promote rapid growth and vigorous crowns; managing for a diversity of mast-producing species, especially white oak and red oak; and 3) maintaining half of the management unit as mast-producing stands (40 to 80+ years old).

Whitebark pine habitat needs to be secure for American black bears during fall and potentially during late spring and summer. According to Romme and Turner, whitebark pine habitat is projected to decrease in the future due to climate change and white pine blister rust. They advise caution when harvesting whitebark pine, especially at low elevations, and advise restricting human facilities in the whitebark pine zone.

In the absence of white pine blister rust, whitebark pines >100 years old provide productive seed crops. Good seeds crops may be produced for 200 to 300 years thereafter. In areas where American black bear management is a high priority, Mattson and Reinhart recommend that timber be harvested in 300-year stand rotations, and landscape-wide harvest should be approximately 3%/decade. Thinning of subalpine fir is required to encourage growth of whitebark pine. Planting areas with rust-resistant whitebark pine seedlings may also promote whitebark pine. Because American black bears raid red squirrel caches for whitebark pine seeds, low red squirrel densities limit American black bear use of whitebark pine seeds. Several authors suggest favoring red squirrels in habitat with whitebark pine. For whitebark pine restoration techniques, see the FEIS review of whitebark pine.

Costello and others suggest that in areas where hard mast is a primary fall food for American black bears, annual mast production should be documented to forecast changes in reproductive output.
Conversion of mast-producing flatwood and hardwood communities to slash pine plantations and winter burning to control understory growth may have negative impacts on food resources for the Florida black bear. Because mast production of saw-palmetto is unpredictable in Florida black bear habitats, Stratman suggests promoting production of acorns in upland hardwood stands with oak on the southeastern coastal plain. The size of oak stands should optimally range from 7 to 12 acres (3-5 ha), and the stands should be adjacent to riparian and swamp habitat.

Clearcutting: By opening the canopy, clearcutting increases production of early seral vegetation, providing forage and cover, benefiting American black bears. Negative consequences of clearcutting include loss of hard mast production, loss of potential den sites, and loss of understory trees, which may not reach suitable sizes for den use in future cutting rotations. As harvested stands age and logging slash decomposes, many resources made available by clearcutting decline.




Use of clearcuts by American black bears is determined by age, size, shape, and distribution of cutting units, as well as proximity of logging roads to American black bear habitat. Recent clearcuts (<8 years old) are seldom used by American black bears in Montana, Idaho, and Washington except to travel through. On Long Island, Washington, American black bears avoided 9- to 14-year-old clearcuts but used 18- to 25-year-old clearcuts. In the Whitefish Range in northwestern Montana, American black bears used 10-year-old clearcuts but did not use newer cuts.

For more information on habitat use by American black bears in clearcut areas, see Preferred Habitat.

Clearcutting on a large scale radically alters American black bear habitat because it involves large tracts of land and extensive road systems. The negative impacts of clearcutting on American black bears could be minimized by harvesting small, irregular-shaped areas adjacent to cut areas >20 years old. The size of clearcuts relative to shape is important when determining value to wildlife. Clearcuts that are highly sinuous and follow natural contours and soil types have the smallest negative impacts. Rogers and Allen recommend providing irregular boundaries, islands of standing timber, and travel corridors along drainages and ridgelines to offset potential negative impacts of clearcutting. Vander Heyden and Meslow and Young and Beecham suggest that within American black bear habitat, clearcutting either be minimized or clearcuts be small in size. To maximize food and cover for American black bears, place clearcuts adjacent to mature timber and open-canopy pole stands. Rogers and Allen suggest that clearcuts ideally be ≤20 acres (8 ha), and the farthest distance from forested escape cover from a clearcut be ≤820 feet (250 m).

Regeneration activities associated with clearcutting include burning slash, planting trees, and controlling weeds, shrubs, and animals that hinder tree reproduction. Clearcutting that involves posttreatment practices that involve bulldozer piling of slash, burning, and soil scarification may damage roots of berry-producing plants and be detrimental to American black bear habitat. Arno and others and Hungerford recommend either broadcast burning slash or leaving it untreated to protect future mast production .Aerial application of herbicides to enhance conifer regeneration may reduce soft mast production for several years.

Tree damage: American black bears may cause damage to trees, especially in the Pacific Northwest. During spring and early summer, American black bears may strip bark to eat new sapwood. This typically 3.3 to 4.9 feet (1.0 to 1.5 m) from the ground, but upper boles of trees may also be stripped. American black bears do not forage on all tree species or age classes equally. Trees of any age are vulnerable to damage by American black bear but pole-sized trees are most vulnerable. In the Pacific Northwest, American black bears may damage Douglas-fir, ponderosa pine grand fir, western red cedar, or second-growth redwood (Sequoia sempervirens) trees. In the northern Rocky Mountains, American black bears may damage western larch.

Tree damage typically occurs in thinned stands. In northwestern Montana, American black bears damaged trees 5 times more often in thinned stands compared to adjacent unthinned stands of western larch, lodgepole pine, and Engelmann spruce. Small western larch trees (4-13 inches (10-33 cm)) DBH suffered the greatest damage (63% of all trees damaged and 92% of the trees killed). In northwestern California, American black bears damaged dense stands of pole-sized (4-20 inches (10-50 cm DBH)) redwood trees located in regenerating stands more than trees in other size classes. Density of damage was negatively correlated with distance from the edge in old-growth stands (P<0.001, t= -4.702). American black bears may benefit dense regenerating redwood stands by thinning trees. Therefore, culling American black bears to prevent tree mortality may be counterproductive and increase the need for future tree thinning.

Options for reducing tree damage and mortality include specific silviculture treatments during precommercial thinning, creating physical barriers, using American black bear repellents, supplemental feeding during the time of year when most tree damage occurs, capturing and relocating American black bears, or killing them. On private lands in the Pacific Northwest, supplemental feeding programs have been successful in reducing American black bear damage. For detailed suggestions on tree damage management, see Nolte and others.

Livestock grazing: American black bears have been eliminated from much of their range by the livestock industry. Domestic livestock may compete directly with American black bears in some habitats. According to Irwin and Hammond, Rogers and Allen and Debyle, grazing should be curtailed or eliminated on low-elevation south slopes, riparian areas, quaking aspen stands, and high-elevation avalanche chutes to avoid competition for food resources between American black bears and livestock.




Roads: The impacts of roads on American black bears are determined by location, road structure, amount of traffic, and timing of road use. In the northern Cascade Range of Washington, roads consistently had a negative impact on habitat used by female American black bear. Roads may not be problematic for American black bears if they are gated to reduce vehicular traffic and maintained as linear wildlife openings. Highways may reduce viability of American black bear populations by acting as barriers to intraterritorial movement, increasing mortality from motor vehicle collisions, and increasing human disturbance. Wildlife underpasses or overpasses may be constructed to provide travel corridors for American black bears under or across high-speed highways.

Hunting: Overharvest of American black bears creates a younger age structure. As populations become younger, fewer females reach puberty, reducing per capita recruitment. The age structure of the female population is then forced to an even younger average age. Full effects of overharvest do not occur until 5 to 10 years after harvest. One way to manage the sex composition of American black bear harvest is to schedule hunting seasons based on denning chronology (see Denning). Because pregnant females enter dens before males, the fall hunting season could begin after females have entered their dens. In spring, hunting of males could occur before females and young emerge from dens. According to Lee and Vaughan, managers should monitor sex ratio of harvest to ensure that females are not over harvested.

To reduce cub mortality and increase subsequent American black bear recruitment, Cunningham and others suggest reducing hunting of females following severe fire and hunting males during spring.

Climate: During La Niña, drought may decrease food supply for American black bears and increase encounters with humans.

Other: Migration corridors are critical for linking habitat between American black bear populations.

According to Willson and others, areas used by American black bears for salmon foraging should be protected from human disturbance and development.

American black bears may be important long-distance dispersers of some fruit seeds. Fruit seeds are dispersed when American black bears swallow them whole and defecate them intact. Germination rates of some plants may be increased by chemical or mechanical scarification that occurs in the American black bear's gut American black bears are unlikely to defecate intact acorns, hickory nuts, beechnuts, or pine seeds.



To be continued....