Post by warsaw on Jul 22, 2011 1:49:01 GMT -9
"With extremely powerful animals such asbears ,
evolution has resulted in a minimum of serious intraspecific individual
injury, and a maximum ritualization of agonistic behaviour
, especially withreproductive units such as sows".
STEPHEN HERRERO
"Aspects of Evolution and Adaptation in. American Black Bears (Ursus americanus Pallas) and Brown and Grizzly Bears (U. arctos Linne.) of North America ."
www.bearbiology.com/fileadmin/tpl/Downloads/URSUS/Vol_2/Herrero.pdf
"...Social play among conspecifics most often involves play-fighting, while running and chasing one another with little or no actual physical contact is less common. Quite detailed observation of American black bears, both in captivity and in the wild, have shown that play usually involves sequences of behavior which are commonly used in other situations but which, during play, are terminated incomplete.
For example, bears' play-fighting resembles real fighting in terms of the activities used but never involves erection of the hair around the neck and shoulders, an aggressive signal which is almost always seen during a real contest.
Some behaviors: head-butting and muzzle-biting are never seen in non-play contexts, and head-butting in particular appears to act as an invitation to other animals to play.
However, bears play may also serve other functions because it is not solely restricted to cubs. Adult male polar bears have been observed to indulge in playful interactions during which both participants demonstrate mutually predictable and stereotypic behavioral sequences.
In general, it has been suggested that such social play by bears helps individuals to refine their social behavior and develop their ability to assess competitive opponents in a non-threatening context.
www.bearplanet.org/
Aggressive behaviors of the japanese brown bear
D. Caroline Blanchard1,*, Robert J. Blanchard1, Toshiaki Takahashi1, Nobuo Suzuki
"...Film analysis and direct observation suggest that 2 very different types of intra-specific fights occur among Japanese brown bears maintained in large stable colonies. Disputes arising over food are short, and involve such activities as threatening, muzzling, chasing, and flight. Weapon use during feeding fights primarily involves slashing blows to the back or head areas of the opponent. In contrast, spontaneous fights are longer, and consist almost exclusively of wrestling, with bites and forepaw blows directed at the opponent's ruff area. These spontaneous fights occur primarily among the larger and higher-ranked male bears, especially among animals with closely adjacent rankings. It is suggested that such fights facilitate the establishment of dominance relationships by providing an opportunity for mutual assessment of strength and stamina without serious risk of injury. .."
onlinelibrary.wiley.com/doi/10.1002/1098-2337(1978)4:1%3C31::AID-AB2480040104%3E3.0.CO;2-Y/abstract
For example:
For example:
A very old male brown bear: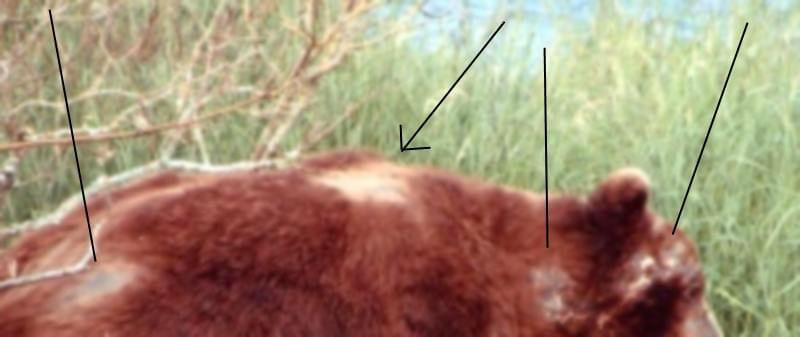 Bears battle injury.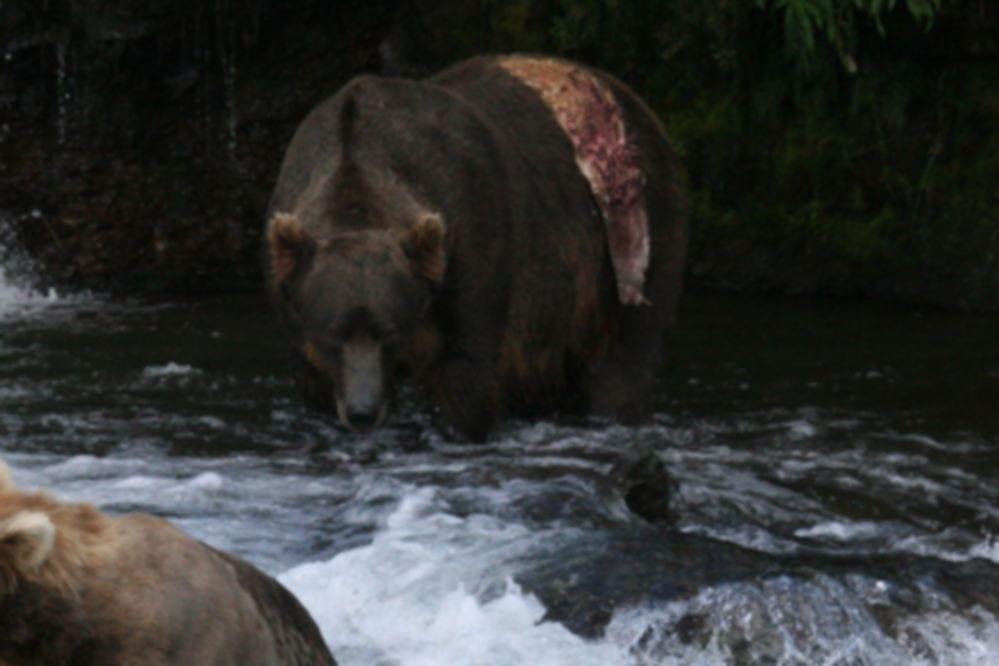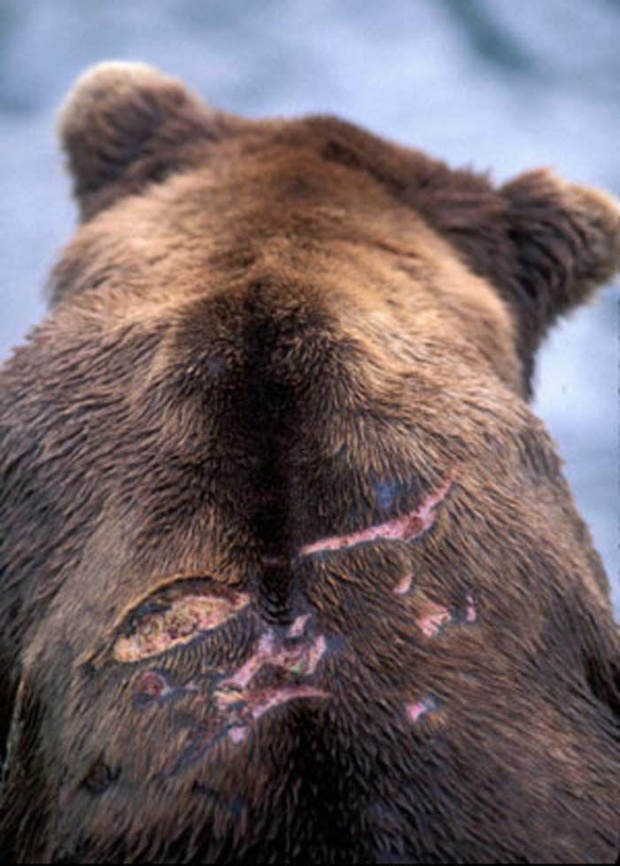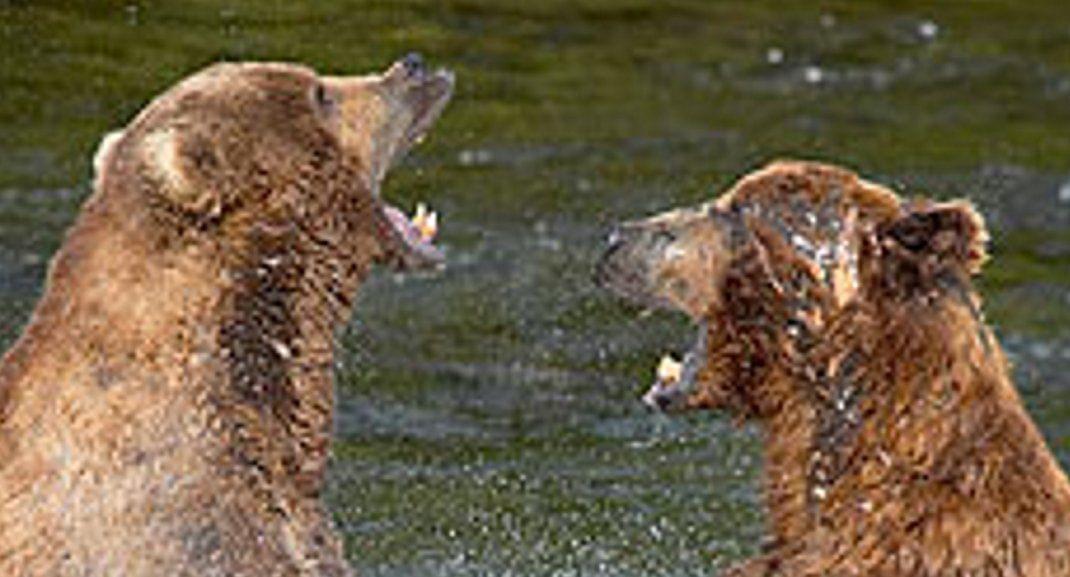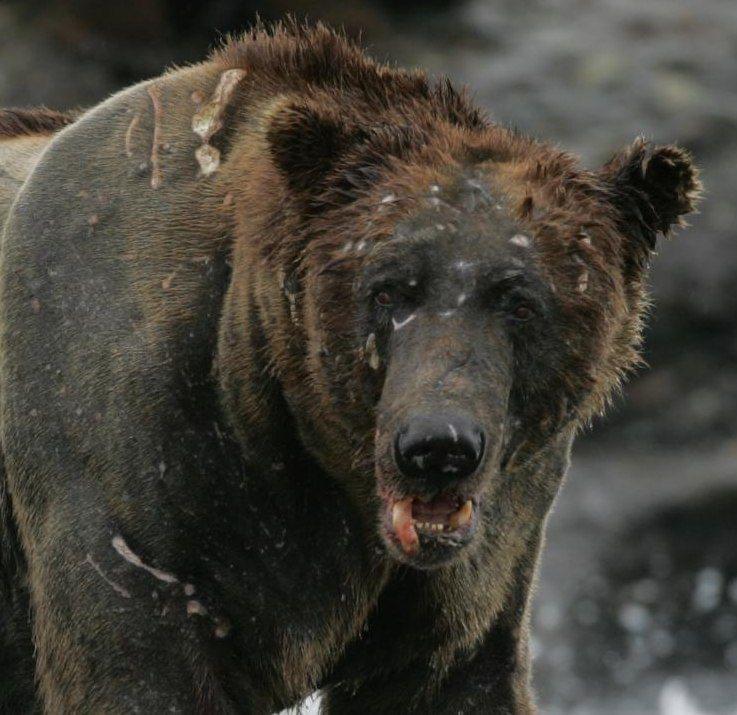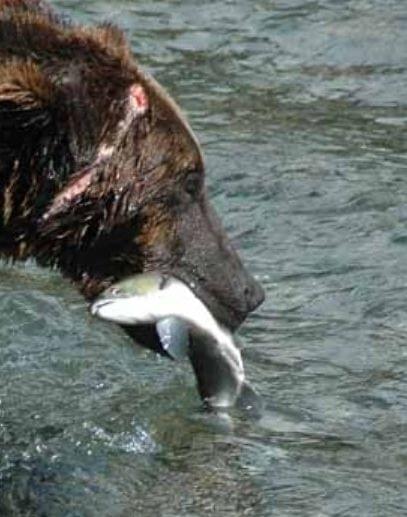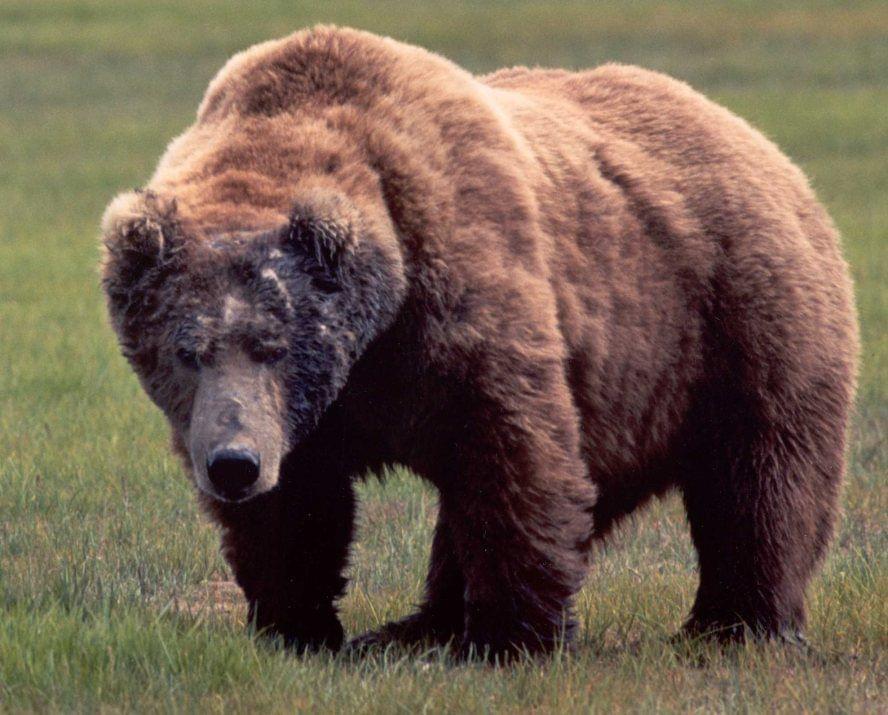 The small number of scars = small number of interactions=small number of "opponents".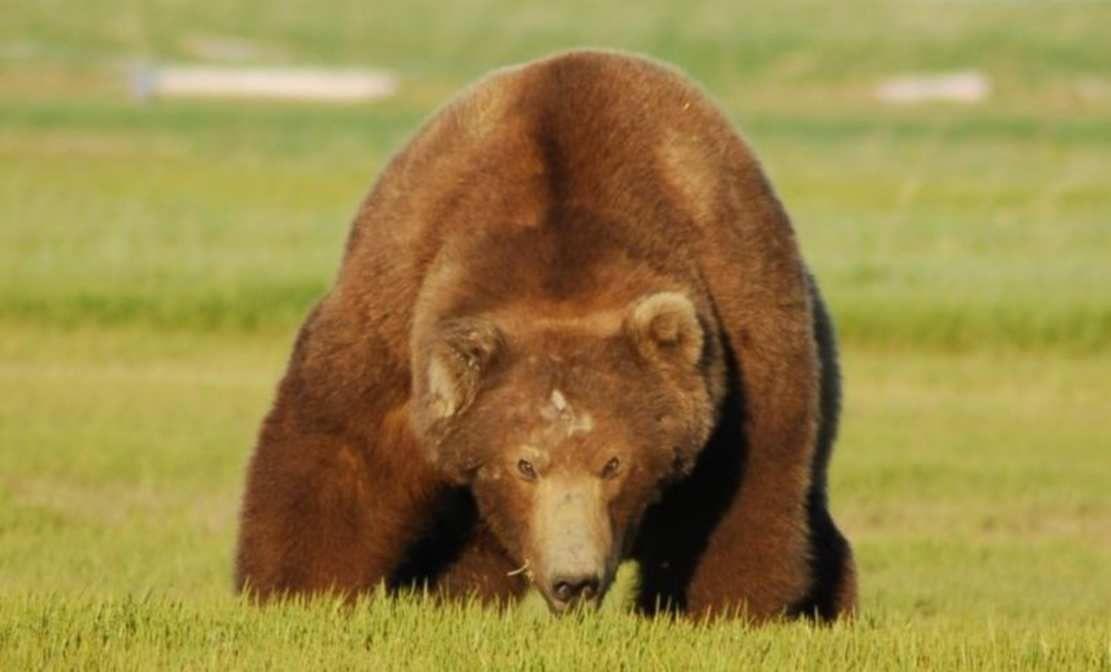 "...Some behaviors: head-butting and muzzle-biting are never seen in non-play contexts, and head-butting in particular appears to act as an invitation to other animals to play..."
A bear's paws and claws as "tools" to kill:
Brown bear's claws: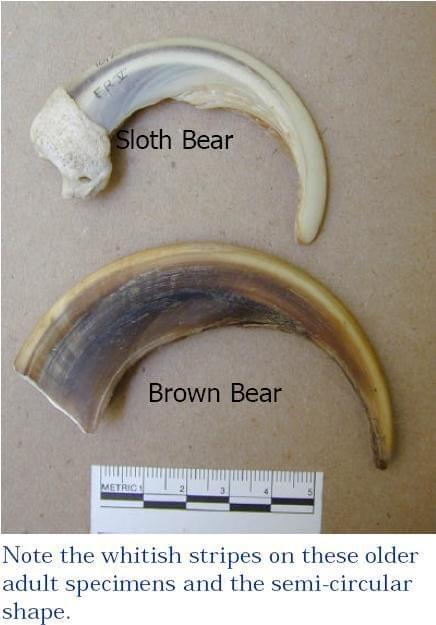 the past month, two Montana grizzly bears have been found dead, their claws removed.
According to the Great Falls Tribune, the latest kill turned up Oct. 18 on the Blackfeet Indian Reservation. The first was found Oct. 1 on the Lewis and Clark National Forest.
The black market for grizzly claws must be lucrative, indeed, for people to risk poaching bears. Killing a griz in the lower 48 states is a violation of the federal Endangered Species Act.
Here's hoping they find the perpetrators. And throw the book at 'em.
blogs.wvgazette.com/johnmccoy/2009/10/29/what-a-waste-poaching-grizzly-bears-for-their-claws/584/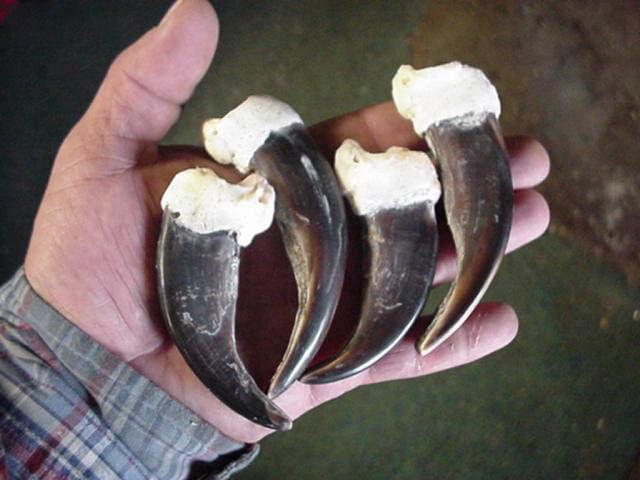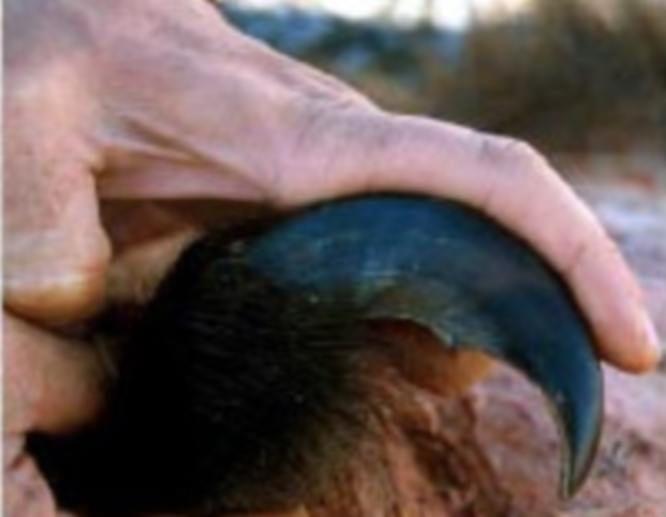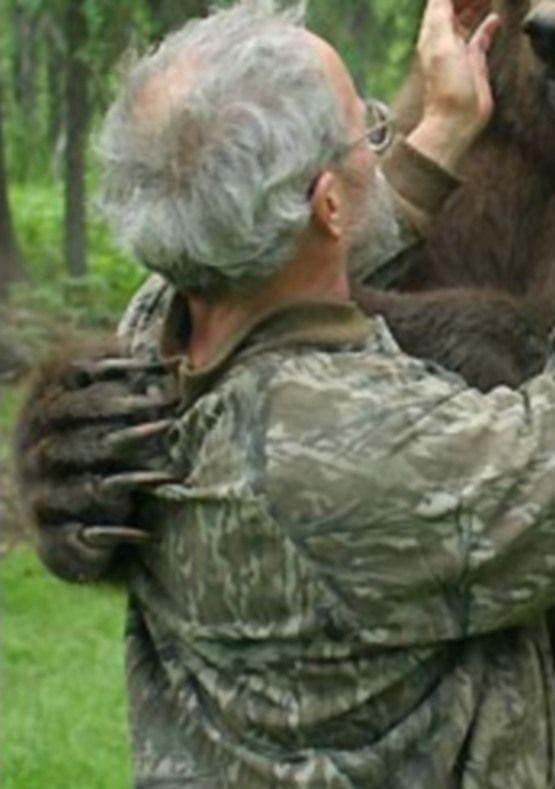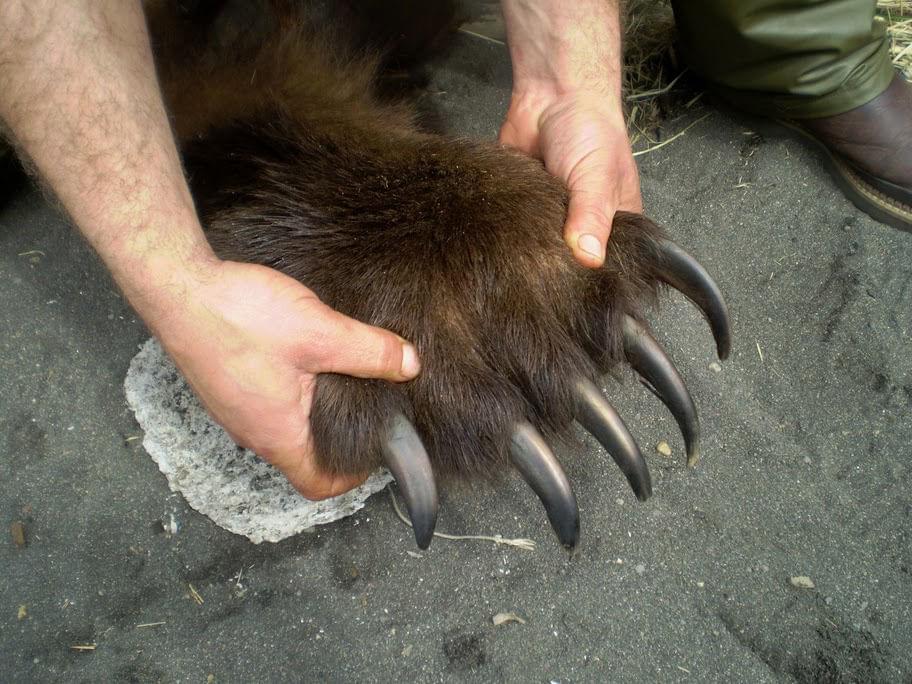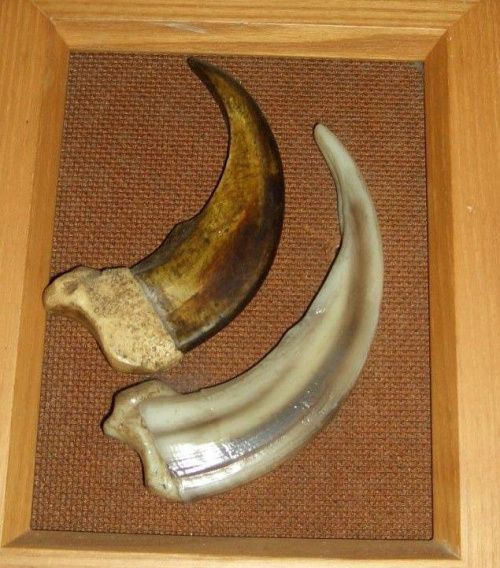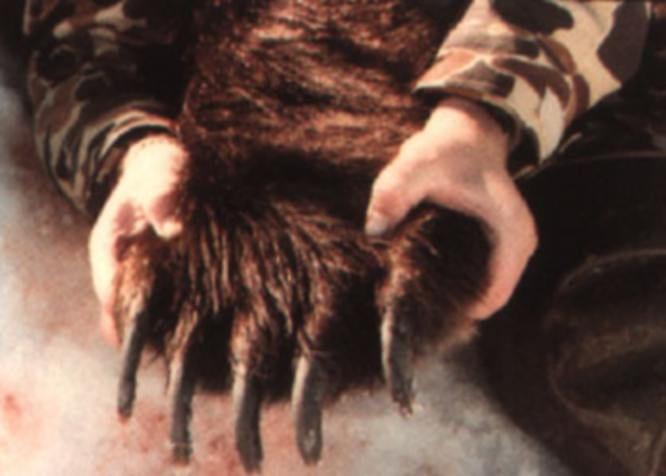 Ursus maritimus
Generally speaking
"View of a polar bear paw. See how big it appears. It can measure over 30 cm. Notice the big toes beneath the abundant fur, but no trace of claws. The grizzly bear and the polar bear have about the same size of paw. The difference lies in the amount of fur beneath the paw and the length of their claws..."
www.museevirtuel-virtualmuseum.ca/edu/ViewLoitDa.do?method=preview&lang=EN&id=1224
Kodiak bear: