Post by grrraaahhh on Sept 3, 2011 2:46:06 GMT -9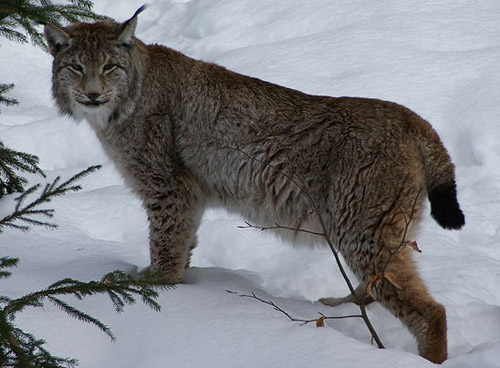 Use of carrion by facultative scavengers is an important, yet poorly understood and underrated ecological process. It includes scavenging on prey remains of large predators, an interaction known as kleptoparasitism. In temperate and boreal regions, the bears might be the most important mammalian kleptoparasites. They are efficient scavengers with an acute sense of smell and of large size, which helps them to displace predators from their kills and to consume majority of the edible biomass relatively quickly. Several authors speculated about possible effects that bear kleptoparasitism could have on the prey utilization and on the predation rates of predators. However, so far there is almost no empirical data available. We studied the effects of kleptoparasitism of brown bears (Ursus arctos) on the consumption of prey and the predation rate of the Eurasian lynx (Lynx lynx) by using GPS-GSM telemetry in combination with inspection of kill sites and automatic video surveillance of prey remains. Eurasian lynx is a solitary felid that hunts large prey, mainly ungulates. A prolonged consumption process (usually 3-5 days) makes Eurasian lynx highly susceptible to scavengers and thus a good example for studying the effects of kleptoparasitism. Our study took place in Northern Dinaric Mountains, one of the few regions in Europe where Eurasian lynx and brown bears still coexist today. Bears found approximately one third of all ungulates killed by the lynx (n=66) and significantly reduced lynx prey utilization (41 % per prey). Lynx responded by increasing predation rate and thus managed to partially compensate for losses due to bear kleptoparasitism. Video clips of consumption of lynx prey and lynx anti-scavenging behavior will also be presented, as well examples of effects of presence of ungulate carcasses on bear movements and active tracking of lynx by the bear.
Miha Krofel, Kos .I, Jerina K.
The noble cat and the big bad scavenger: the effects of kleptoparasitism by brown bears on Eurasian lynx
(2011).