Post by grrraaahhh on Sept 16, 2011 17:41:37 GMT -9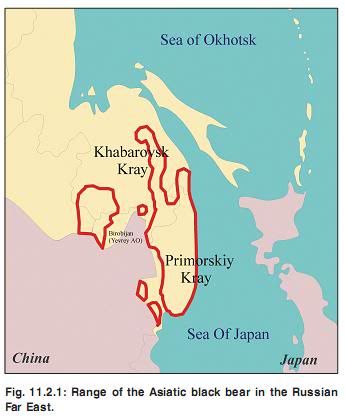 The Asiatic black bear inhabiting the south of the Russian Far East (RFE) belongs to Ussury subspecies (
Ursus thibetanus
G. Cuvier 1823). This is the northeastern edge of the species' range. These animals are characterized by black color, a prominent crescent-shaped marking on the chest, and large rounded ears. Mature males are up to 2m in height, and in autumn, after accumulating fat, weigh up to 250 kg. Females are smaller.
Asiatic black bears live primarily in mountain broad-leaf and Korean pine (
Pinus karaiensis
)/broad-leaf forests (Kucherenko 1974) which, in the Amur-Ussuriiskii region, grow primarily along river valleys and on mountain dopes at 600-800 m elevation. Best habitats for black bears are the broad-leaf valley forests of the Manchurian flora type, which contain a significant admix of Manchurian walnut (
Juglans mandshurica
), Amur cork tree (
Phellodendron amurense
), Mongolian oak (
Quercus mongolica
), and linden frees (
Tilia amurensis
), with a thick understory that includes grape and Magnolia vines (
Vitis
spp.), linden free, hazel nut (
Corylus
spp.), mock cherry (
Padus
spp.), and grassy covers of cow parsnip (
Heracleum borbatum
), angelica (
Angelica ursima
), and butterbur (
Petasites palmate
). Productive oak groves, both with and without Korean pine and the aforementioned tree species, shrubs, vines and grasses, are secondary forage for Asiatic black bears. Black bears are seldom encountered in sparse forest, in wetland deciduous forests, in mountainous spruce (
Picea
spp.), pine (
Pinus
spp.) taiga, or in birch (
Betula
spp.) and alder (
Alnus
spp.) thickets. They avoid unforested areas altogether. Black bears also avoid pure narrow-leaf and deciduous forests, and are found in them only when berries are abundant and when there is a shortage of then primary and secondary forage. They can live in narrow-leaf forests in low densities when there are productive oak groves and clusters of Korean pine.
An analysis of 23 winter dens showed that in 73% of instances (n = 164) bears used free cavities, in 16% denning was on the ground under upturned tree root nests and in and/or in areas of wind-thrown trees, in 8% of instances denning was in cliffs or caves, and in 2% of instances, dens were dug into the ground (Abramov et. al. 1911). Only 1 instance of denning in a tree (not in a cavity) was documented. Bears use large size frees for dens. Of 164 instances of denning in tree cavities, linden trees were selected most often (40%), poplars next (33%), and Korean pines (13%), oaks (8%) and elms, ash and yellow birches (6%) less often. Of 979 known dens in 14 districts in Primorskii Krai, only 242 (25%) were occupied (Pikunov et al. 1991). On the eastern slopes of the Sikhote-Alin mountain system, where Asiatic black bear density was 2.0 bears/10 km2, 59% of bears spent the winter in earthen dens or in cliffs, and 41%in hollows. Only one out of every 4 or 5 suitable den was actually used in any given year (Aramilev 1990b).
It is unprofitable, given current timber harvest practices, for loggers to cut trees with cavities and, as a rule, they are left standing despite harvest regulations that prescribe the felling of defective trees. Our research shows that on the coast of the Sea of Japan, Asiatic black bears me root openings or hollows in stumps of Mongolian oak for winter dens. The presence of available dens speaks to the fact that there is no shortage of den-sites for black bears, and that they select what is most convenient in any given year.
To be continued....