Post by grrraaahhh on Apr 24, 2012 5:41:04 GMT -9
Preliminary ProfileTremarctos floridanus
, occasionally called the Florida spectacled bear or rarely Florida short-faced bear is an extinct species of bear in the family Ursidae, subfamily Tremarctinae.
T. floridanus
was endemic to North America from the Pliocene to Pleistocene epoch (4.9 mya—11,000 years ago), existing for approximately 4.889 million years.
The last species of bear to go extinct seems to have been the Florida cave bear (Tremarctos floridanus; sometimes called the North American spectacled bear). This is a tentative statement, based on remains of this species dated to about 8,000 years ago, found in a flooded cave (subterranean river exposed at the top) in Florida (Kurten and Anderson 1980). The cave, called "Devil's Den" is now a tourist attraction for scuba divers. The cave was once a sink hole that trapped a number of species, including what appears to be the last known Florida cave bear. The importance of this find is that it indicates persistence of this species for nearly 4,000 years beyond the Pleistocene. It is also only about 1,000 years older than the oldest known
T. ornatus
, the extant Andean (spectacled) bear of South America, which has no ancestor among South American bears (Stucchi et al. 2009). These two species are the only members of this genus.
The Florida cave bear derives its name from being found in a number of caves, especially in Florida. However, the species once ranged as far north and west as Idaho and California, and as far south as Belize in Central America. The species was quite a bit larger than today's Andean bear: adult male floridanus may have weighed as much as 300 kg. They were believed to be mainly herbivorous (Figueirido and Soibelzon 2010); like Andean bears, they may have preyed on some ungulates, but were likely not a direct threat to people.
The range of
T. floridanus
collapsed through time, and by the late Pleistocene they remained mainly in the warmer climes of the southeastern U.S. In Florida, as well as some other states in this region,
T. floridanus
appeared to be more common than American black bears. One theory holds that changing climate caused these two species to compete more than they had previously, eventually leading to the extinction of the larger one (Sanders 2002).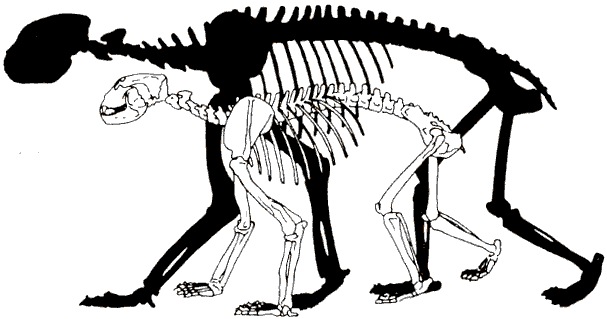 Reconstructed skeletons of a female (white) and a male (black silhouette) Florida cave bear,
Tremarctos floridanus. The sexual dimorphism in size is somewhat enhanced by the fact that
the female is smaller than average, while the male is a particularly large specimen. After Kurten.
[Based on the material from Devil's Den]
B. Kurten, 1966, 1976.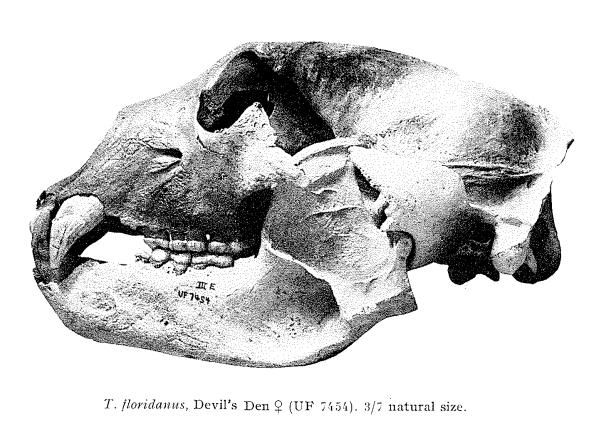 Kurten (1966).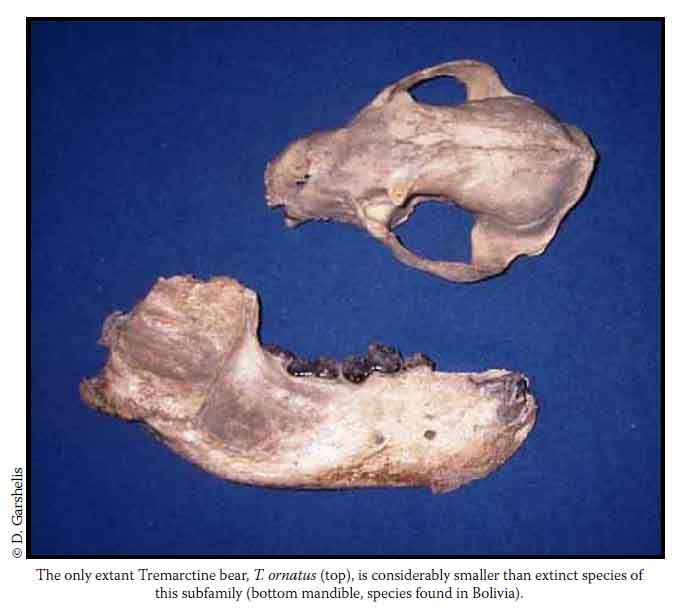 To be continued.....