Post by grrraaahhh on Nov 21, 2011 13:53:59 GMT -9
Kingdom:
Animalia
Phylum:
Chordata
Class:
Mammalia
Order:
Carnivora
Suborder:
Caniformia
Infraorder:
Arctoidea
Family:
Ursidae
Subfamily:
Ursinae
Tribe:
Ursini
Genus:
Indarctos
Above: Drawing reproduction of
Indarctos oregonensis.
www.flickr.com/photos/jobaria/2317324803/in/set-72157603988685117/
Indarctos
was a genus of bears that existed during the Miocene. They had an extremely wide distribution; fossils of them have been discovered in North America, Asia, and northern Africa.
Indarctos
was probably part of the ancestral stock that gave origin to the modern ur sine bears. Hunt (1998) included
Indarctos
in
Ursavini
, which is a sister tribe for the tribes of the modern bears. Alternatively,
Indarctos
is a sister taxon of
Ursus
and in the same clade with the modern great panda (
Ailuropoda melanoleuca
) (Ginsburg and Morales 1998; Ginsburg 1999).
Petter and Thomas (1986) reviewed the Agriotherium and
Indarctos
radiations in the Old World. They considered that there were only two Indarctos species in the Old World: I. arctoides (including subspecies
I. a. vireti
and
I. a. arctoides
) and I. atticus (I. a. atticus, I. a. lagrelii, and
I. a. punjabiensis
).
I. arctoides
had a limited distribution, occurring only in western and central Europe.
I. atticus
spanned from western Europe to China. According to this hypothesis
I. arctoides
was a forest dweller in the Vallesian (11.2–9 Ma) and
I. atticus
was associated with steppe and savanna in the Turolian (9–5.3 Ma). The two were considered to be chronospecies, with the open habitat
I. atticus
evolving from the closed habitat
I. arctoides
.
The type species is
Indarctos salmontanus
. Pilgrim named it in 1913. The holotype is a left maxilla that was found in India (Geraards et al. 2005).
Species:
Indarctos salmonatus, I. arctoides, I. oregonensis, I. atticus, I. nevadensis, I. zdanskyi, I. sp
.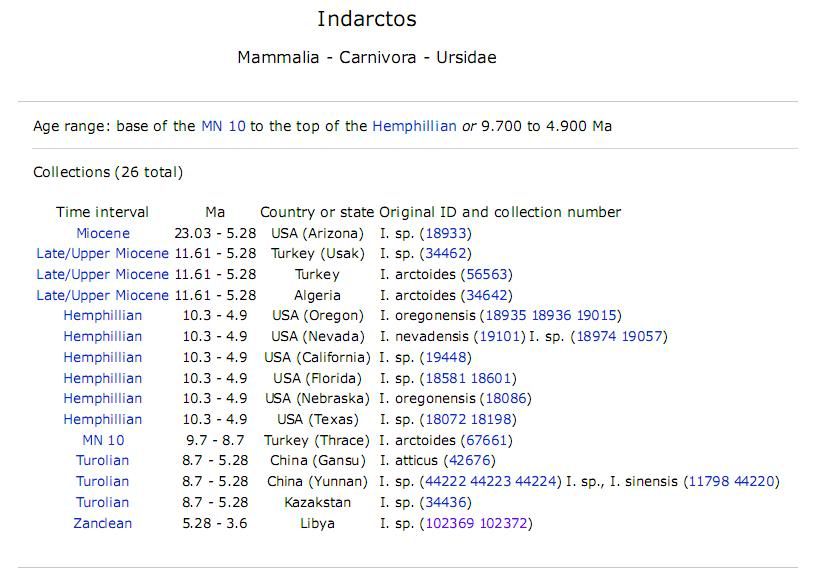 Indarctos fossil sites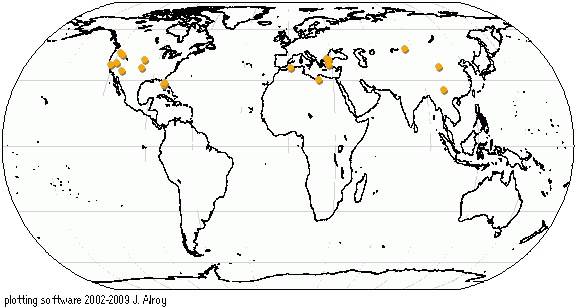 Source: Paleobiology Database.