Post by warsaw on Mar 15, 2012 13:21:24 GMT -9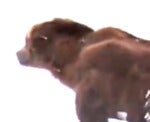 The marquee attractions of Victorian circuses, felines commanded the lion's share of top-quality food.
The menu du jour of Alexander Fairgrieve's famous traveling menagerie offers some sense of the pecking order among the various animals. Elephants had to content themselves with "hay, cabbages, bread and boiled rice, sweetened with sugar" while the big cats feasted on "shins, hearts, and heads of bullocks."
So much meat did the lions and tigers of the great circuses consume, in fact, that their fellow carnivores the bears were forced to await the onset of "very cold weather" before they were similarly provisioned. Until such time, they subsisted on bread, sopped biscuits, and boiled rice.
To be an ursine understudy to feline stars was a sad fate, indeed. Should you wish to express dietary soliditary with the dancing bears of Victorian circuses, this recipe for boiled rice with cheese, which appears in The Helping Hand Cook Book (1912), will have you looking forward to winter's chill..."
www.theausteritykitchen.com/2011/09/circus-animals-nutrition.html
Toledo Zoo - Polar Bear Skulls
The skull on the right is a healthy bear, the skull on the left is of a bear fed a poor diet
www.flickr.com/photos/fkalltheway/4487583366/in/photostream
"...NON-INFECTIOUS DISEASES
Dental disease
Dental pathology is almost ubiquitous in
captive bears and should therefore be of
primary veterinary concern. In one study,
> 70% of zoo bear skulls studied had broken
or open-tipped canine teeth (Kitchener,
2004)
. Dental disease is a significant welfare
issue and may also predispose to secondary
local or systemic bacterial diseases (De-
Bowes et al., 1996) affecting the myocardium,
kidneys or bones.
The primary bear dental disease syndromes
are fractured teeth, caries and calculus buildup.
Calculus deposition and periodontal disease
may be prevented and managed through
dietary and management changes: minimizing
high-sugar items and feeding a diet containing
dry bear kibble, vegetables and fruit,
plus enrichment items, such as rawhides and
bones, including the use of log and puzzle
feeders, are all beneficial.
Bears kept in inadequate environments, or
with severe behavioural problems, may resort
to 'bar-biting'. This stereotypy, where bears
chew compulsively on their cage bars, primarily
causes erosion of the enamel from the
lingual surfaces of the canine teeth and wearing
of incisors, weakening teeth and predisposing
to fractures
. Additionally, fractures
may occur as a result of trauma. Tooth
fracture exposes the pulp, causing severe pain
(although bears often do not show obvious
external signs of this pain), and allows tracking
of bacteria to the tooth apex, causing
tooth root abscessation and alveolar osteomyelitis.
Fractured canines usually have associated
apical infection.
Draining tracts from
bilateral infected canine teeth can eventually
weaken the rostral jaw bones, predisposing to
pathological fractures.
There is no standardized treatment for fractured..."
Source:
Veterinary issues related to bears (Ursidae)
D. C. BOURNE1, J. M. CRACKNELL2 & H. J. BACON3
1Wildlife Information Network, The Royal Veterinary College, London, United Kingdom,
2Marwell Wildlife, Colden Common, Winchester, United Kingdom, and 3Animals Asia
Foundation, Sichuan-Longqiao China Bear Rescue Centre, Longqiao, Xin Du District,
Chengdu, Sichuan 610505, China