Post by grrraaahhh on Jul 10, 2010 2:07:33 GMT -9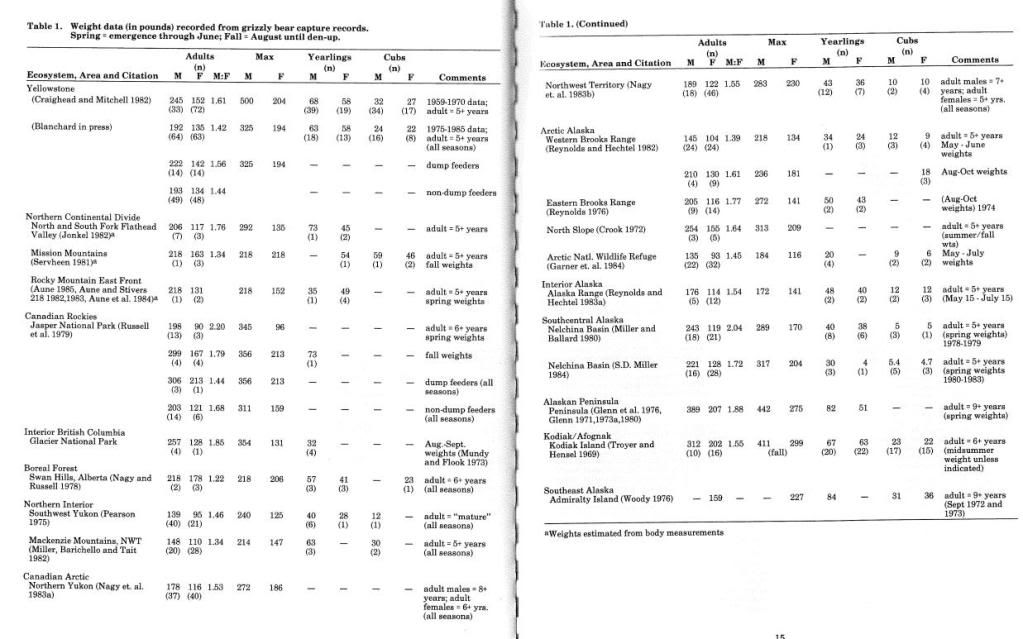 KEY POINTS REVIEW:
SIZE
A large number of reports reviewed included weight and measurement data along with capture records. Means and variance by age/sex class and season were usually not presented and this compilation of information does not attempt to analyze all of the new data from those reports lacking statistical compilations.
Weight data from most of the major capture studies are summarized in Table 1. Weights presented in the table are not directly comparable due to differences in season of capture and sample size; the original data must be reviewed for this information.
GROWTH RATES AND PATTERNS
Glenn (1980) in a short study of the morphometric char­acteristics of brown bears on the Alaskan Peninsula reported that both sexes experienced a period of rapid, continuous; growth in total body size (for several body and skull measurements) between the ages of 6 months and 2.5 years. Cranial dimensions showed a similar growth trend from 6 months to 3.5 years. There were no sex-related dif­ferences in body size at age 6 months, but yearling and 2-year-old males were larger than females for several mor­phometric measurements.
This period of rapid growth was followed by a period of more moderate growth during which males increased at a faster rate than females. From age 3 and older, males were significantly larger than females in all dimensions (includ­ing weight, body and skull measurements). Females attained at least 95% of their ultimate size (except in zygo­matic width) by age 4-5, 2 years before that of males (ages 6-8). As indicated by cranial measurements, male rates of growth were approximately twice that of females between the ages of 6.5 and 15.5+ years. By age 9, there was no overlap between male and female bears in total skull size (sum of length and width).
Blanchard (in press) found that in Yellowstone National Park, male grizzlies were consistently heavier than females for all age classes except cubs and yearlings. Sex­ual dimorphism beginning at age 2 was also apparent in other study areas (Troyer and Hensel 1969, Pearson 1975). Males in Yellowstone steadily gained weight until at least 15 years, but the mean annual rate of weight increase for males aged 4-15 (5.6%) was much less than the rate for cubs through 3 years (42.1%). The mean weight of adult males was 29% greater than for females and body measurements were 8-17% greater. Males attained full size in 7 of 11 body measurements by age 6 and in all 11 by age 9.
Kingsley et al. (1983) studied the growth patterns of 2 populations of grizzly bears in northern Canada. They found that the ultimate spring weight for males was nearly twice that for females, but males took 14 years to reach 95% of this weight while females took only 9 years. In another study, Kingsley et al. (in press) used "zoological length" (length along the spine from nose to tip of the tail) to study grizzly bear growth patterns. Their analysis showed that, unlike the weight-age patterns discussed above, the length-age curves for the 2 sexes differed very little. The male asymptote was 21 cm larger than the female but both curves leveled off quickly. Females reached 90% of the asymptotic length at only 4.02 years and males reached this length at 4.69 years. Thus, for male bears, skeletal growth appeared to be completed rapidly while weight tended to increase throughout the normal life span. These results contrasted with Glenn's (1980) finding that males showed protracted growth in both length and weight (age for 95% total length was 4 years and 6 years for females and males, respectively).
The growth patterns of a grizzly bear population in the western Brooks Range, Alaska, differed significantly from the patterns observed for the 2 northern Canadian popula­tions (northern Yukon and Tuktoyaktuk Peninsula). The initial growth rate (based on zoological length) for the Alaskan population was about 75% of the Canadian rate; Alaskan grizzlies reached 90% of their asymptotic length 1.4-1.9 years after the Canadian bears; however, Alaskan bears were 5 cm longer than the Canadian bears. In both regions, the age of first reproduction (6 years for northern Canada and 8 years for northwestern Alaska) corre­sponded to the age when females attained 95% of their asymptotic length. Kingsley et al. (in press) suggested that, as indicated by mean home range size, the Alaskan popula­tion might have been on a lower nutritional plane.
Kingsley et al. (in press) also studied the ecological aspects of sexual dimorphism in bears. They felt that com­petition for range and mates resulted in a selective advan­tage to large size for adult males. The selective advantage to females should be to complete growth early in life and, after attaining some minimum size, divert energy from growth to reproduction.
Bunnell and Tait (1981) noted that sexual dimorphism does not generally serve to partition food resources in large omnivores. They suggested that the larger body size of male bears favored the establishment of larger home ranges and, thus, access to a greater number of potential mates. Large size also conferred a selective advantage in intraspecific conflicts during the breeding season. The smaller body size of females enables them to establish smaller, more exclusive home ranges — a benefit while rearing young.
Troyer and Hensel (1969) inferred from the available data that brown bears on Kodiak Island lost about 30% of their acquired fall weight while denning. Male bears con­tinued to lose weight rapidly after emergence; however, spring weight losses for mature females and immature bears were less pronounced as they remained in the den longer. The weight lost in spring was usually regained by midsummer. Summer-to-fall weight gains ranged from 110% for cubs to 42% for 5-year-olds. One 3-year-old male gained 20 kg per day and another 3-year-old male gained 1.05 kg/day. Troyer and Hensel (1969) also provided an excellent discussion of fat deposition patterns based on inspection of carcasses.
Nagy et al. (1983b) reported that in the Northwest Terri­tories, 3 adult males gained an average of 0.29 kg/day from spring to late summer or fall (mean of 111 days). Three subadult males had average daily increases of 0.35 kg/day over a mean of 102 days. Maximum rates of gain were 0.49 kg/day for an adult male over 117 days and 0.51 kg/day over 81 days for a subadult male. Average weight gains for 4 adult and 2 subadult females were 0.42 and 0.38 kg/day, respectively, from mid-August to mid-September while feeding mostly on ground squirrels. The results suggested that rates of gain were dependent on season, availability of various food items, feeding habits of individual bears and the reproductive status of females.
Weight losses during winter were highly variable for grizzly bears in the northern Northwest Territories (Nagy et al. 1983b). Total weight losses during the denning period averaged 0.19 kg/day over 255 days for 2 adult males (24% weight loss), 0.02 kg/day over 256 days for 1 subadult male (5% loss), 0.18 kg/day over 249 days for 5 adult females (30% loss) and 0.10 kg/day over 249 days for 2 subadult females (34% loss).
Nagy et. al. (1983a) reported that in the northern Yukon, the average weight gain for 3 adult males was 0.57 kg/day over 116 days from May to September (50% weight gain). The greatest weight gain for an adult male was 0.74 kg/day over 112 days. Two adult females with yearlings gained 0.14 and 0.58 kg/day over 28 and 62 days, respectively. Over-winter weight losses averaged 0.22 kg/day for 5 adult males and 4 adult females over 238 days. This loss corre­sponded to average reductions in body weight of 25% and 36% of males and females, respectively.
Pearson (1975) reported that in the southern Yukon the average over-winter weight loss for 4 grizzly bears (2 adult males and 2 subadult females) was 0.2 kg/day for an aver­age of 220 days. These animals lost 28-43% of their fall weight in the den.
Weight increases in the fall were rapid. An adult male gained 0.41 kg/day for 126 days and an immature female gained 0.64 kg/day for 16 days in August. Nagy and Rus­sell (1978) reported gains of 330% over 148 days (0.39 kg/day) for a 2-year-old male and 91% over 90 days (0.36 kg/day) for an immature female in the Swan Hills region of Alberta. Russell et al. (1979) reported that 2 subadult griz­zlies in Jasper National Park gained an average of 0.22 kg/day from spring to autumn. The average rate of loss for 3 grizzly bears from denning to emergence was 0.22 g/day.
Several studies presented data on weight gains of captive grizzlies or brown bears. Bunnell and Tait (1983) fed 2 captive yearlings various experimental diets including horse meat, dog food, blueberries, salmon and beet pulp. During a 190-day trial period, the male yearling gained 0.63 kg/day (133% increase) and the female gained 0.51 kg/day (129% increase). Captive male and female brown bear cubs at the Houston Zoo gained 6.0 and 4.4 kg/month, respec­tively, from birth to 4 months. A female brown bear cub reared at the Copenhagen zoo gained 7.1 kg/month during its first 7 months (Ben Shaul 1962). Jonkel et al. (1980) reported that a captive grizzly cub, fed a diet to encourage maximum weight gain, increased its weight by 12.7 kg in 31 days (0.41 kg/day).
SOURCE: The Grizzly Bear Compendium (1987).