Post by warsaw on Jan 30, 2012 8:41:48 GMT -9
Skull of brown bears and big cats.(some remarks)
First of all:
"By the way I believe that the longest Panthera leo atrox replica likely exceeds the actual length measurements of the largest related fossil skull by 1/2 an inch because the manufacturer advertizes its
length measured to the central upper incisor
foremost extremity, a sort of inaccuracy that historically have also been done on some occasions for skulls of animals shot by hunters (
big cats, bears and so on
) instead of measuring them properly. This is because some of these skull measurements should be taken with a lot of caution if not certified by an serious authority, even just for the purpose of considering them."
Originally posted on another forum by WaveRiders.
I agree with that.
www.cic-wildlife.org/uploads/media/red_book.pdf
THE SOUTH AFRICAN MEASURING SYSTEM FOR HUNTING TROPHIES
suidkaapjagters.co.za/trofeestandaarde
Morphometric measurmenst of the skulls of male Carpathian brown bears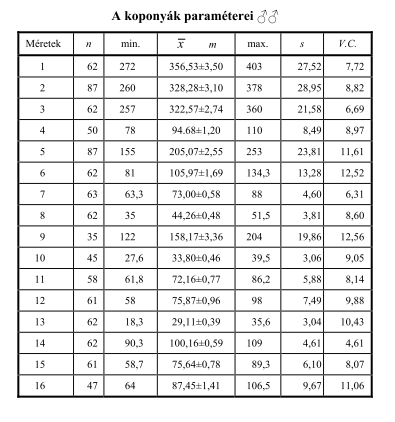 R
Source:
mek.oszk.hu/06400/06464/06464.pdf
Now:
The mean and range of condylobasal lengths of 87 specimens:
Mean = 328,28 mm,MIN=260 mm,MAX=378 mm
Some remarks from
The Use of the Skull in Age Determination of the
Brown Bear by B. P. ZAVATSKY (Third International Conference on Bears)
Immature Bears (from 2. 5 to 3 years)
LW: 62; CBL: 254 - 285; WS: 530 - 610. The semicircular lines go out to3 - 4 cm from the occipital bone where growth of the sagittal crest begins and where closure begins in an almost lamellar suture. Closure begins from the lower part of the coronal suture.
Conclusion .
This table contains "Immature Bears (from 2. 5 to 3 years)"
There are some very interesting tables for comparisons"
Distinguishing skulls of lions (Panthera leo) and tigers (Panthera tigris)Per Christiansen
Condylobasal skull length:
Source:
www.scribd.com/doc/19692355/Distinguishing-Skulls-of-Lions-Panthera-Leo-and-Tigers-Panthera-Tigris#outer_page_3
Another interesting info from:
"Comparative morphometric analysis of captive vs.
wild African lion (Panthera leo) skulls"
Micah D. Zuccarell
"Material and Methods
Forty-five P. leo skulls originating from
southern Africa, along with twelve originating
from various zoos were available for examination
by permission of the James Ford Bell Museum
of Natural History (St. Paul, MN), the Field
Museum of Natural History (Chicago, IL), and
the Milwaukee Public Museum (Milwaukee,
WI). See Figure 1 for visual of captive male P.
leo skull. The wild specimens had been collected
during the late 1 gth to late 20th century either by
research expeditions in Africa or donated upon
discovery by African park rangers. Captive
specimens originated from Como Zoo, St. Paul,
Lincoln Park Zoo, Chicago, and Milwaukee
County Zoo, Milwaukee. Captive specimens had
been collected throughout the 20th century. The
cause of death was unavailable for the majority
of the wild and captive specimens. All specimens
examined possessed permanent canines, thus aging
them at two years and older. Juveniles (those
lacking permanent canines) were excluded from
This table contains immature lions
Source:
Tigers (Panthera tigris, P. sondaica and P. sumatrae) in the Collection
of the Museum für Tierkunde Dresden (Carnivora: Felidae)
Tygøi (Panthera tigris, P. sondaica a P. sumatrae) ve sbírkách Zoologického musea
Drážïany (Carnivora: Felidae)
B16733, ♂ ad., skull, wild caught 24 December 1973, Waka Basin, Primorskij Kraj, died on 30 August
1990 about 18 years old, Zoo Leipzig – skull with strong, straight sagittal crest.
B16561, ♂ ad., skull and skin, wild caught Sichote Alin, Eastern Siberia, died on 19 July 1991 – skull
with straight sagittal crest
According to a source:
"
The male B25395 is one of the largest Siberian tigers; only one skull from Northeast China in the Museum
in Berlin is larger (MAZÁK 1983)."
This statement did not shock me .See above ("length measured to the central upper incisor" )
Ursus arctos middendorffi
Panthera leo atrox Credit to GuateGojira
Ursus arctos middendorffi
Condylobasal length = 415mm
Zygomatic breadth = 319 mm
Panthera leo atrox
Condylobasal length = 424,3mm
Zygomatic breadth = 304,3 mm