Post by grrraaahhh on Mar 1, 2011 6:52:37 GMT -9
The answer is not so clear. The conventional thinking advanced that within the past 10,000 year North American black bears (Ursus americanus) have decreased in body and tooth size. Moreover, the large size of the skulls of the late Pleistocene black bears overlaps with the size of some modern grizzly and brown bears, Ursus arctos and also geographically overlap south of the ice sheet during the late Wisconsinan (Guilday 1968; Kurten 1960; Kurten and Anderson 1980).
Below, reconstruction of large Ursus Americanus skull from Bill Neff Cave, Virginia: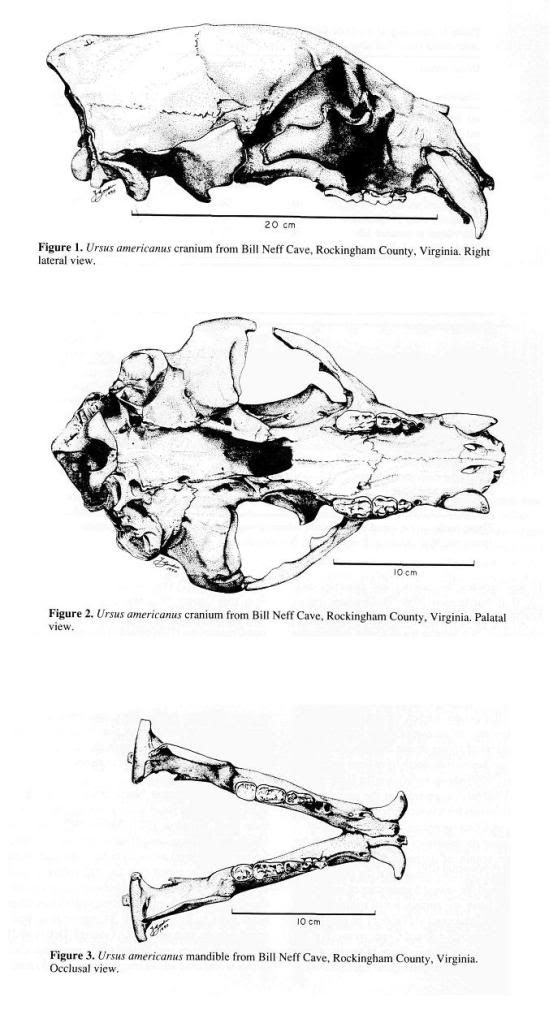 Limited cranial details.


Based on relative age criteria established by Rausch (1961), the Bill Neff skull represents an adult individual in age class IX. In addition, this specimen has well-developed sagittal and supraoccipital crests with large upper canines. Therefore, it is probably a male.


The skull is complete except for minor damage. All upper incisors are missing, but both upper canines are present. Both right and left maxillary bones are freshly broken exposing the roots of the canines. Both canines are worn, but the left one is worn more than the right. The right canine is pointed; whereas, the left one is bluntly rounded. Enamel is spalling from both canines, but this is probably post-excavational damage.



The first three premolars are missing, but there are alveoli for two premolars on each side of the skull.



Both P4s are present and well worn.


Both lower jaws are complete and have been glued together at the symphysis.


The left zygomatic is complete except for a small (22.1 x 16.9 mm) triangular fragment broken out at the jugal-squamosal suture. The right jugal-squamosal suture has been removed by a small break in the cranium. The left jugal-squamosal suture is still open. The basioccipital-basisphenoid suture is closed and not visible. The skull was still growing in width but had obtained its maximum length.


Note: According to Boone & Crocket, less than a handful of Ursus Americanus skulls scored 23 inches total length (23 3/16 in, 23 7/16 in, 23 10/16).


Later dentition research by Wolverton & Lyman (1998) tell us
modern
specimens from Lawson Cave and other parts of the American Midwest are relatively large compared to modern North American black bears from other areas, suggesting that many supposed late Pleistocene bears from the area might also be modern. The researchers do not invalidate the popular diminution position, rather, they argue for stronger dating testing and a larger geographical specimen sample study.
References
Graham, R.W. 1991.
Variability in the Size of North American Quaternary Black Bears (Ursus americanus) with the Description of a Fossil Black Bear from Bill Neff Cave, Virginia
. Illinois State Museum Scientific Papers, Volume: 23, p. 237-249.
Guilday, J. E. 1968.
Grizzly bears from eastern North America
. Amer. Midland Nat., 79:247-250.
Kurten, B.1960. A skull of the grizzly bear (Ursus arctos L.) from Pit 10, Rancho La Brea. Contrib. Sci., Los Angeles County Mus., 39:1-6.
Kurten, B. 1980. Pleistocene mammals of North America. Columbia Univ. Press, New York, xvii+442 pp.
Wolverton, S. & Lyman, L. R. 1998.
Measuring Late Quaternary Ursid Diminution in the Midwest,
Quaternary Research 49, p. 322-329.