Post by grrraaahhh on Nov 4, 2010 7:07:14 GMT -9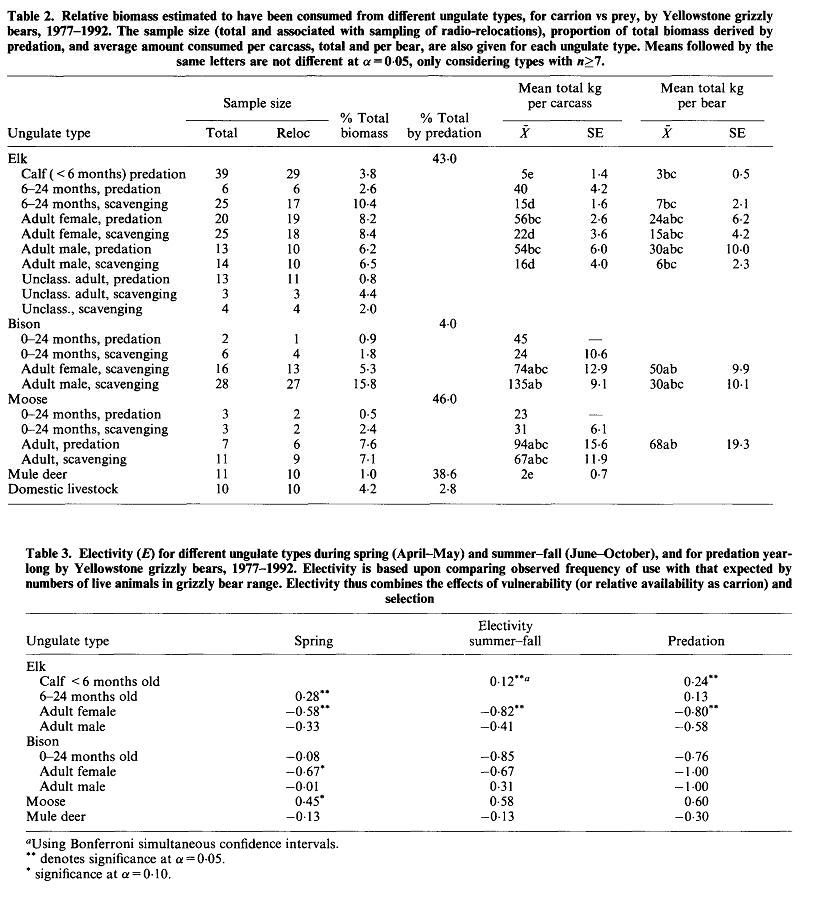 Use of ungulates by Yellowstone grizzly bears Ursus arctos (Mattson)
Brief extracts:
Elk and Moose

Among the ungulates, elk were by far the most important prey. This was basically a density-depen­dent relationship, since elk outnumbered all other ungulates combined. Elk were most vulnerable at three periods during the annual life cycle: the rut­ting season, the end of winter, and at calving.


During and after the rutting season, bull elk are more vulnerable to grizzly bear attacks than at other times when grizzlies may selectively hunt them. Bulls become vulnerable in fall because of their habit of bugling, their strong rutting scent, and their preoc­cupation with mating and holding a harem. Many also receive incapacitating wounds in combat with other contending males. Any of these situations may trigger predatory behavior in the bear, which then uses the combination of skills most appropriate to the specific opportunity.



Anecdotal accounts from field observers illus­trate how grizzly bears capture elk during these periods and how they behave at their kills. In addition to having great power and speed, grizzlies are known to stalk with great skill and work coop­eratively to pursue and kill large prey. As "loners," they kill and defend.



Some grizzlies develop specific hunting strate­gies. Number 88 (Patch-eye), alpha male at the Trout Creek ecocenter in 1967, moved to the Firehole-Madison River drainage after the closure of Trout Creek in 1970. We observed him on three elk kills during the spring of 1971. Two of the three elk (both bulls) appeared to have been stalked and captured with a simple hunting strategy. Both carcasses were found in heavy timber less than 45 meters (50 yards) from the banks of the Madison River. We found drag-trails where the grizzly had hauled the elk from the river. These observations suggested that Patch-eye, from concealment in the timber, attacked the elk wading the river, his superior strength enabling him to overpower them in the water. Bone marrow compression tests showed that neither elk was malnourished at the time of death. In the same area, we observed an adult female grizzly on a fresh elk kill in the middle of the river. We believed the fe­male used a similar hunting strategy.



Even in thermal areas such as the geyser basins, spring snow was often 0.5 to 1 meter (2-3 ft) deep in the timber. Winter-weakened elk were able to travel more easily in the river or along its banks than in the deep, wet snow of adjacent timber. Thus, kills tended to be concentrated in riparian habitat.
The Grizzly Bears of Yellowstone (Craighead).