Post by grrraaahhh on Jul 11, 2011 5:52:05 GMT -9
Eventually, this 'General Discussion' thread will be a follow up to a planned & separate Haida Gwaii & Coastal B.C. Black Bear profile threads. Why the interest? Some of the largest black bears in North America are found here. If there are outside visitors with relating information please feel free to share.
The current estimate of the black bear population in British Columbia is 120,000–160,000. This is about one quarter of all black bears in Canada. Bear numbers are higher in wet climatic zones, where vegetation is more plentiful, than in dry regions, and coastal bear densities are higher because of access to spawning salmon. Although bear numbers.
Above: Photo of Haida Gwaii black bear.
www.treklens.com/gallery/North_America/Canada/photo541267.htm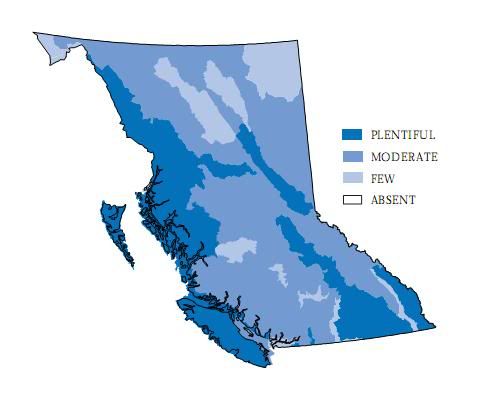 Above: Map of black bear distribution in British Columbia.
Ursus americanus cinnamomum
. Most of British Columbia east of the Coast Range. Is generally larger, with narrower teeth than U. a. altifrontalis. The brown colour phase is common.
Ursus americanus altifrontalis
. Coastal race ranging from Oregon to Bella Coola, western Tweedsmuir Provincial Park, east into Manning Provincial Park and Lillooet. Primarily black-phase bears.
Ursus americanus vancouveri.
Insular race restricted to Vancouver Island and larger adjacent islands; large like U. a. carlottae but has smaller teeth. Primarily black- phase bears.
Ursus americanus carlottae
. Insular race restricted to the Queen Charlottes; massive skull, large molars; only black phase.
Ursus americanus kermodei
. Restricted to the coastal mainland of British Columbia from Burke Channel to the Nass River and most adjacent islands. Includes white and black colour phases. The white colour phase is most common on Princess Royal and Gribbel Islands (about 10% of bears) but is seen occasionally throughout the range of Kermodei.
Ursus americanus emmonsii
. Limited to the extreme north-west of the province; primarily found in Tatshenshini Provincial Park and adjacent Alaska; includes the rare glacier or "blue" bear.
www.johnstonestrait.ca/2009/06/page/2/
Abstract
The controversial role of Haida Gwaii (Queen Charlotte Islands) as a biological refugium on the north-western coast of North America has been widely discussed for more than fifty years. The presence of morphologically divergent subspecies on Haida Gwaii is one of the major lines of evidence suggesting this archipelago's role as a refugium during the Wisconsin. However, since morphological distinction can be derived postglacially as well as in extended isolation, such evidence is ambiguous. To examine this question, we did a phylogenetic analysis of cytochrome b sequences (719 bp) of black bear (Ursus americanus), one of the distinctive endemics of Haida Gwaii, and compared these with conspecifics from across North America, focusing primarily on the northwestern coast. We found that the Haida Gwaii bear are indistinguishable from coastal bear of British Columbia and Vancouver Island, but are highly distinct from continental bear. Coastal and continental bears differ by 24 synapomorphies and an average sequence divergence of 3.6%. The coastal mitochondrial lineage occurs in each of the three recognized coastal subspecies suggesting that the morphological characteristics differentiating these taxa may be postglacially derived. The data are consistent with recent suggestions that a glacial refugium existed on the now submerged continental shelf connecting Haida Gwaii, Vancouver Island, and the coastal fringe of mainland British Columbia. This refugium would have been an additional source for postglacial recolonization of northwestern North America.
S. A. Byun, B. F. Koop and T. E. Reimchen.
North American Black Bear mtDNA Phylogeography: Implications for Morphology and the Haida Gwaii Glacial Refugium Controversy
. Evolution
Vol. 51, No. 5 (Oct., 1997), pp. 1647-1653.
PDF LINK:
web.uvic.ca/~reimlab/dnabear.pdf